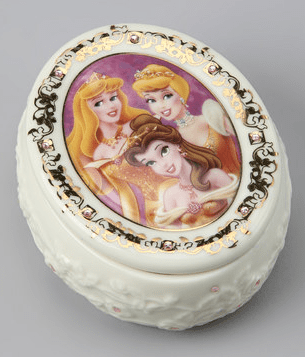 Porcelain Princess Jewelry Box only $6.99 at Zulily

Another fun sale at Zulily today!  I LOVE this adorable Porcelain Princess Jewelry Box at Zulily.  My girls would love it!
Sleeping Beauty, Cinderella and Belle grace the top of this beautiful porcelain box. It's just the right size for presenting any piece of Disney jewelry to that special little someone.  It's made by Disney.
They also have Tinker Bell and SpongeBob Jewelry!  Just look for the Jewelry with Character Collection.
Of course it's FREE to join Zulily and once you are a member you'll receive an email each day with their hottest deals – designer items at a fraction of the cost. It's a great way to make your dollars stretch and get good quality items!
And when you use coupon code GAZU812 you'll save $5 off of a purchase of $50 or more.