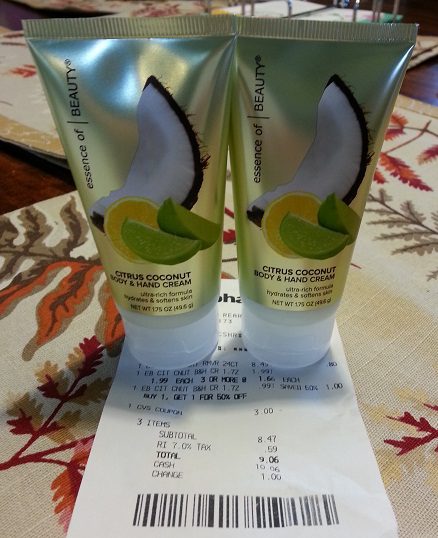 When you head into CVS this week make sure you scan your Extra Care Card at the Red Coupon Machine because you may get a coupon for $3.oo off Essence of Beauty.   There are no restrictions so I was able to snag these two hand creams for FREE!  These are the 1.75 oz purse size ones and they are in with the regular Essence of Beauty items.  The regular price is $1.99 each but they are on sale this week Buy One Get One 50% off.
(2) Essence of Beauty 1.75 oz Hand Cream, $1.99 On Sale BOGO 50%
Use $3.00 Essence of Beauty CVS Coupon
Final Cost: FREE after coupon!
The coupon did beep and she had to put it through manually but since there was no restriction there was no reason I couldn't use it on these two.  If you want something bigger, you'll still score a good deal since they are all on sale Buy One Get One 50% off!
I don't know if everyone will get this coupon so I don't suggest you go just for this.