This post is Sponsored by Nasoya but my opinions are 100% my own!
September is pretty much here and that means busier times ahead for you and your family. Whether you're gearing up for back to school season, a busier time at the office, or even anxiously awaiting entertaining for football season, Nasoya can help make your time in the kitchen a lot easier (and healthier!)
As the leading producer of tofu, Nasoya, offers a number of delicious products that make healthy, protein packed recipe creation a breeze.  From silken tofu to firm, there are a variety of textures that make for versatile ingredients in some of your favorite dishes.  For those looking for a more convenient on-the-go option, or are hesitant to prepare tofu, Nasoya's TofuBaked is the perfect solution.  Pre-marinated and ready to eat heated or cold, TofuBaked comes in Teriyaki, Sesame Ginger and new Chipotle will join the line in September! A flavor for every palate and no draining or pressing necessary!
Nasoya Tofu Recipe – Quinoa Stuffed Peppers
Here is a recipe using Nasoya Teriyaki or Sesame Ginger TofuBaked that I thought you might enjoy!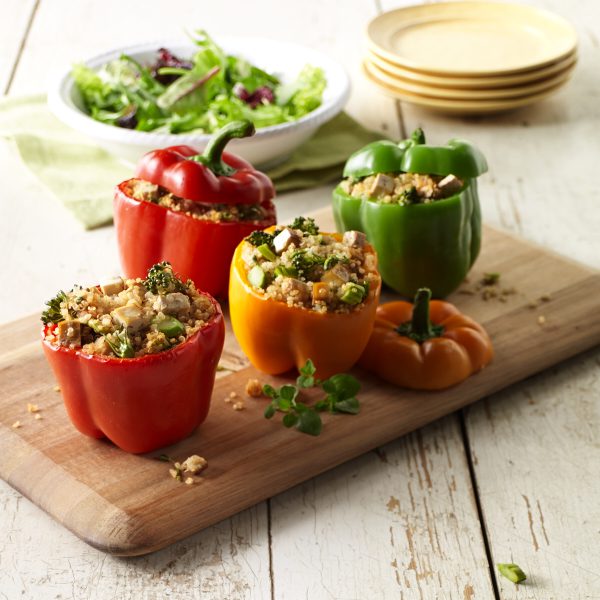 [print_this]
Quinoa Stuffed Peppers
Ingredients
1 package Nasoya Teriyaki or Sesame Ginger TofuBaked, cut into 1/4 inch pieces
1 1/2 cups water
3/4 cup quinoa, rinsed & 2 1/2 cups cooked quinoa
1 cup cut-up broccolini or broccoli, steamed
1/2 cup chopped green onions
1 tablespoon soy sauce
1 teaspoon sriracha sauce
4 large bell peppers
Directions
In a 2 quart saucepan, heat water and quinoa to boiling; reduce heat.  Cover and simmer 11 to 13 minutes or until water is absorbed and quinoa is tender.  Remove from heat.  Stir in tofu, broccolini, green onions, soy sauce and sriracha sauce.
Heat over to 350 degrees.
Cut thin slice from stem of each bell pepper to remove top of pepper.  Reserve stems for garnish.  Remove seeds and membranes; rinse peppers.  If necessary, cut thin slice from bottom of each pepper so they stand upright.  Stuff peppers with quinoa mixture.  Place in ungreased 8 inch square baking dish.  Bake uncovered 25-35 minutes or until stuffing is hot.  Garnish with pepper tops.
[/print_this]
If you like this, check out the other recipes on the Nasoya website!