Revvin' Race Car 2-In-1 Building Set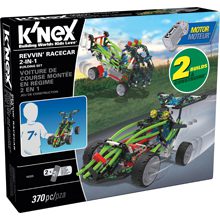 Build a revvin' racecar, then build a powerful ATV. Includes 370 K'NEX rods & connectors are included, plus a battery-powered motor. Build a super-fast, motorized racecar! Then take it apart and build a powerful motorized ATV than can take on tough terrain. All K'NEX rods & connectors are proudly made in the USA.
This toy is recommended for builders ages 7 and older and sells for $29.99.  It requires 2 AA batteries, not included.  You can find it in stores now!