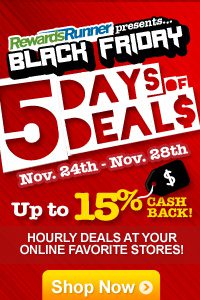 RewardsRunner.com is having a SPECIAL Black Friday Sale that will last 5 days long! Each day there will be special cash back offers running every hour starting at 8am. The special savings event is beginning today, Thanksgiving Day and will last all weekend through to Cyber Monday.
Here are today's (11/24) deals and when they are happening….
8:00 A.M.–The Children's Place — Cash Back: 8%
9:00 A.M.–Kmart — Cash Back: 6%
10:00 A.M. — Target — Cash Back: 12%
11:00 A.M. — Target — Cash Back: 12%
12:00 P.M. — jcpenney — Cash Back: 4%
So head on over to RewardsRunner.com and do some shopping!!!