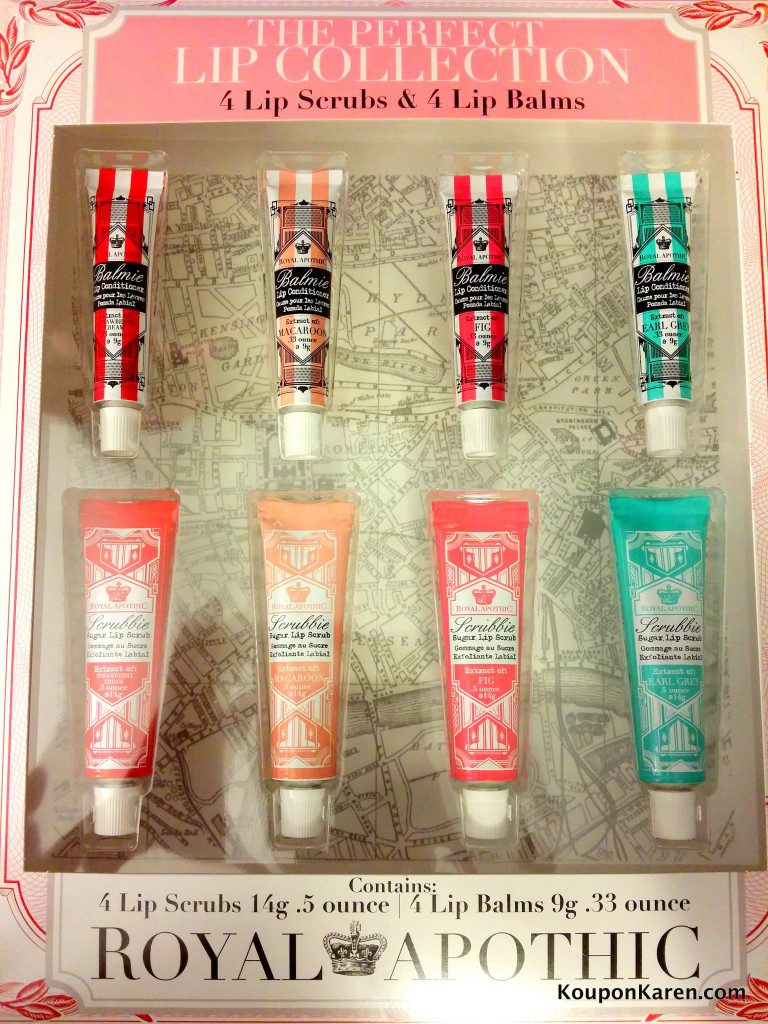 This post is Sponsored by Royal Apothic but my opinions are 100% my own!
If you love lip balms that are tasty and make your lips feel great, then you will love Royal Apothic The Perfect Lip Collection that can only be found at Costco.
But first a little about this brand because it's the first I heard of them…
About Royal Apothic The Perfect Lip Collection
A chance encounter in a London bookstore led our founder to an unworldly discovery. An apothecaries manual, lost to time, was discovered tucked upon a shelf and would become the inspiration for a collection of unique fragrances and amazing formulations that have taken consumers by storm. Sean creates each of the products with the utmost detailed attention. Not only do they smell amazing, but the formulas truly perform and care for the skin and body. Each scent has the ability to be layered and manages to capture an emotional experience or place from memories.
Royal Apothic has quickly become one of the fastest growing beauty and fragrance brands in the US. With a dedicated cult of fans, the fragrances and products have become must- haves for the sophisticate wanting quality products in beautiful packaging. Whether bought for one's self or given as a gift, the entire line is an exercise in modern indulgence.
On their website, you can purchase the lip scrub (Scribble) and the lip balm (Balmie) individually but at Costco you can get a set of 4 lip balms and 4 lip scrubs in a cute box that would make a great gift for someone.   The set retails for $29.99 and if bought individually online, you'd spend $18 each.  That's a HUGE bargain because there are 8 total in this set.
So now that I've convinced you it's a good buy, let me tell you why you want to buy Royal Apothic The Perfect Lip Collection at Costco.
The Scubbies Lip Scrubs are a gentle scrub made of natural sugars to help exfoliate the lips and leave them feeling silky smooth.   To make your lips soft you just need a pea size amount of the scrub which you massage using a firm, circular motion on your lips.  Just wipe away the scrub with a damp tissue and apply a Balmie to soften your lips even more.
It's super easy and takes minutes and then you'll have super soft lips.  My lips dry out in the summer because we are in the sun a lot so I've been using the Scrubbies and Balmies and love how soft my lips feel.  My husband even noticed how soft they were.
They both come in some really yummy scents including Strawberry Creme, Macaroon, Fig and Earl Grey.   Can I just tell you the Strawberry Creme is to die for!    I use one of these every single day.
I've never heard of using a scrub on your lips, perhaps I live under a rock but I love what it's done to my lips.  So this winter will be interesting to see if I can keep them from drying out by using these.  Of course I'll need more by then.
Disclosure: I received a Free product for review. My opinions are 100% mine.