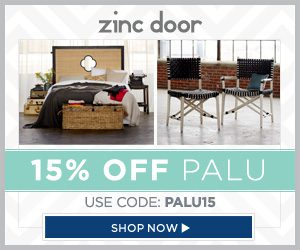 Save 15% off Palu at Zinc Door
If you like furniture that can make a bold statement then check out Palu at Zinc Door! Detailed, distinct and effortlessly classic, the Palu furnishing line embraces quality materials, fine craftsmanship and singular design for pieces that truly stand the test of time. Including chairs, beds, dressers and more featuring anything from natural wood to textured materials, the versatile collection is equally as elegant and refined as it is modern and approachable.
Plus, now through October 15th, Zinc Door is offering 15% off Palu with promo code PALU15.  Don't miss your chance to save on this fabulous collection today!