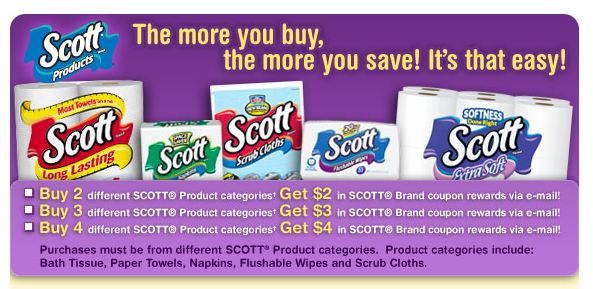 Right now you can save even more on Scott Products.  Along with the current Scott's printable coupons, you can combine those with this Rewards coupon to save even  more!  The more you buy the more you save.  Here is how it works:
Purchase at least 4 different products from the Scott Product categories: Bath Tissue, Paper Towels, Napkins, Flushable Wipes and Scrub Cloths.  Then send in:
Original UPC codes from purchased SCOTT® Products
Original dated cash register receipt(s) with products and purchase prices circled
Fill out form HERE and click the Submit button. This will verify that they have all the required information and display the completed form so you can mail it in. You must include a valid e-mail address to receive the electronic coupon.
Print the completed form and follow the instructions at the top of the page to receive your coupon.
Purchases must take place between 1/16/2010 and 2/1/2010. Requests must be postmarked by 2/8/2010.  Limit 1 request per envelope. For more information click here.
Rewards Coupon will be sent via email.