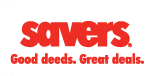 Savers is an international thrift store chain with locations all over the U.S., Canada and Australia that offers the largest selection of new and used Halloween costumes, accessories and home décor of any other retailer.  You can check out their selection on line at Savers.com or stop by one of their stores.  They really do have a big variety of costumes and great prices.
You can even build your own costumes from either used second hand items or a mix of new and used.  The skies the limit, you can be whoever or whatever you want to be!  Or you can purchase a pre-package costume if you don't have that much of an imagination.  (it's ok if you don't, that's why they have them pre-packaged!)
Check the Savers website for a store near you!
Disclosure: I received free product in exchange for writing this post.  As always, my opinions remain my own.