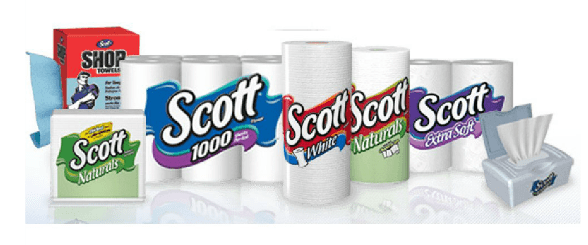 Since I know you all love coupons and Scott is a brand we see on sale a lot, I wanted to share this program with you called Scott® Shared Values.  It is a program that offers unique deals and rewards to its members.  Of course it's FREE to sign up and super quick too!  Once you sign up you pick and choose what values are right for you and then you can print a coupon for $.75 off Scott® Bath Tissue or $.75 off Scott® Towels.  BUT if you share your save, then you can print a coupon for $1.25 off select Scott® brand products when you share the value of Scott® Shared Values with 3 friends or post to your Facebook page.
If you are a regular Scott user, then you can check back each month because the coupon savings will change and you'll be able to print out more savings each time they change!   We see a lot of sales for Scott brand products each week so this is definitely for you if you are brand loyal!  Scott is one of my go to brands and I always grab some when I find a good deal.
But besides coupon savings, Scott Shared Values also offer's you chances to earn savings in other areas like family entertainment,  Amazon Mp3 credits, Blockbuster, Family Fun pass and more.
I love when companies find ways to help promote their products along with helping us to save on things we either already purchase for our families or fun things for our families.  We all work hard and struggle in different ways so when a company rewards us when using their products – it just makes me love that company even more.
Click HERE to sign up and get your coupons!
Disclosure: "I participated in a campaign on behalf of Mom Central Consulting for Scott. I received a promotional item as a thank-you for participating and am able to earn additional rewards throughout the campaign."