A couple of weeks ago I shared a site called CouponTrade where you can sell unwanted gift cards – which I did TWICE.  I sold one as an e-card and one as a physical gift card.  I've received a few emails asking about the process of shipping the gift card once it's sold so I thought I'd write a post explaining that more since I recently sold a physical gift card.
When you list a gift card to sell on CouponTrade, some cards will give you the option of listing it as an e-card or a physical card.  You can have a physical gift card and list it as an e-card, it doesn't have to be an e-card which is what I did for the first card I sold.  Unfortunately, the e-card isn't always an option.
If you can list your physical card as an e-card I suggest you do to save yourself some time and to get your money faster!  You will have to enter all the information from the card, including the account number and pin number (if applicable).  Then once your card sells and you receive your money for it, you can just cut up your card and toss it in the trash.
But if you have a physical card that you can't list as an e-card, or choose not to, you'll have to ship that card to the person who purchases it.  It's pretty simple and will only take a few minutes of your time.
Once your card is sold you'll receive an email asking you to ship the card within 3 business days.  CouponTrade pays for all the shipping so all you need is a printer, some paper and an envelope.   The mailing label has all the directions right on it and there are spots to put your gift cards, in case you sold more than one to the same person. (See picture below) I taped my gift card so it would stay in place when I put it in the envelope.  The top part of the printed sheet you can cut and tape it right to the envelope.  You'll need a standard business size envelope and the label will fit right across the envelope perfectly.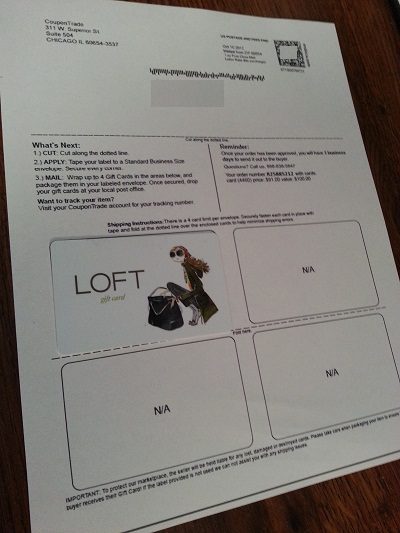 After that,  just drop it in the mailbox and you're all set.  Pretty easy.
Once you ship your card, your funds will be available within a few days and you can choose your payment method.  I choose check payment so I didn't have to pay any paypal fees and I had my check within about 5 days.  Super easy money.
When you list your card, there are fees associated with it – there is a listing fee of either $.99 for an e-card or $1.75 for a physical gift card and then CouponTrade deducts 10% of the purchase price as their commission.  After that all the money is yours to do whatever you want with.  You can turn around and then purchase discounted gift cards if you'd like or buy a new purse.  Your choice.
CouponTrade is a trusted site which means when you list a gift card they will call you to verify that you are a real person and you really have a gift card to sell.  This is to protect you and the buyer and I think it's great they have this system in place.
So have any of you sold any cards since I first posted about this?  I'd love to hear about your experience.