Seventeen Magazine Only $4.50 a Year!
Today only, you can subscribe to Seventeen Magazine for only $4.50 per year! You can order up to 5 years at this price! Just click THIS LINK and enter coupon code KOUPONK at check out to receive the discount.   You can also renew your current subscription at this low price!
Seventeen is the magazine subscription every teenage girl wants. Every issue is filled with the hottest styles and beauty tips, advice on how to handle guys and friends, and has exciting features like quizzes, music, trends, and guides for choosing the right college and career. If teens love it, you'll find it in Seventeen.
Send this magazine as a gift!
It's super simple to send this as a gift. Just put a check mark in the box that says "Send as a Gift Subscription" like below: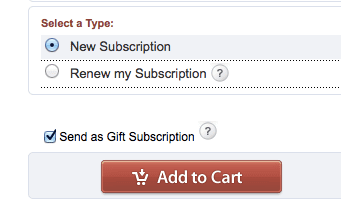 And the add to cart. You'll then be brought to your shopping cart. Put in the coupon code KOUPONK and click "proceed to check out". Enter all YOUR billing information and then you'll be brought to the shipping information screen. This is where you'll put in the address the gift subscription is going to be sent to. You can even select an e-card to send them so they know their gift is on the way. You'll have the option to put in the date you want it sent as well. That's it. Now you'll have a gift that will give all year long.
This offer expires on Friday 08/08/14 11:59 PM EST.
Don't want this magazine?
You can still save 20% on other titles when you use coupon code KouponK at DiscountMags.com. Just add the magazine to your shopping cart and enter the coupon code to receive the discount!