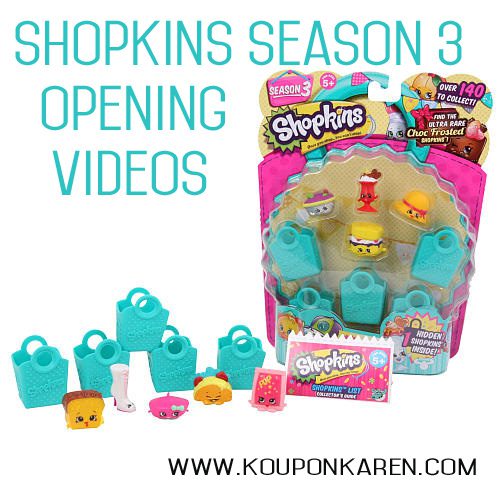 My daughters are BIG into Shopkins. My little one watches YouTube videos of kids opening their packages all the time. She's OBSESSED with them! I catch her playing with her Shopkins and making "videos" like the ones she watches. She's been begging me to video her and upload it to YouTube.
When they told me that Season 3 packs were out and they were HOT I told her when we find some (they go fast!) we can do some videos of her opening them. Well today was the day! Our local Toys R Us received a shipment last night so we arrived right when they opened. I was able to get some blind basket packs, a 5 pack and a 12 pack. They were both so excited.
Here are her first videos of opening Shopkins Season 3 of many more I'm sure!
Shopkins Season 3 Opening Videos
Shopkins Season 3 Five Pack Opening
Shopkins Season 3 Blind Basket Openings
Shopkins Season 3 Twelve Pack Opening