This post is Sponsored by Architec Housewares but my opinions are 100% my own!
Summer may be winding down, but you are probably still using your grill a lot.  I know I am!  If you are too, then you are going to love the Concave Cutting Board from Architec Housewares.  But even if I'm not grilling, I sometimes need a cutting board like this.  Why?  Well I'm going to tell you.
Concave Cutting Board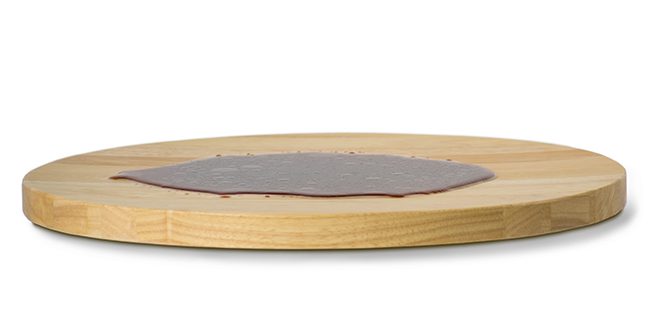 For the chef who has taken the time to make the perfect steak or fish, Architec provides the perfect cutting board to slice it on. The Concave Cutting Board turns the traditional carving board inside out with this beautiful, unique design that features a concave center to hold juices in place and Gripper technology to hold the board still.  The center reservoir holds up ¼ cup of liquid to keep meats succulent and juicy.
I can't tell you how much I love this cutting board.  Well actually I can – I LOVE IT!  I've been wanting something like this for a long time.  Whenever I make a roast, I like to cook medium rare so that means it's flowing with juices.  But when I slice it, the juices fall off the cutting board.  I usually put a towel under the cutting board to catch the juices.  Admit it, you have too!
But with the Concave Cutting Board, I don't have that problem anymore.  You don't really notice it by looking at it but the middle of it slopes in so the juices stay right with the meat.   See the picture above, that is seriously how it works.
The size of this cutting board is perfect too.  It measures 14″ x 18″ so any size roast you cook, will fit on here.
You can purchase this cutting board for $39.99 at ArchitecProducts.com.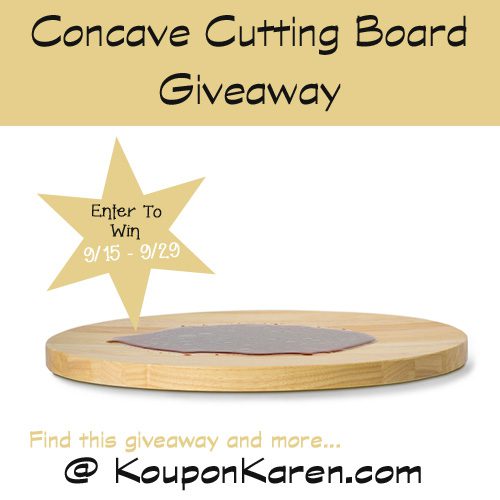 (1) Koupon Karen reader will win a Concave Cutting Board.

To enter the giveaway, use the Giveaway Tools widget below. Email and feed subscribers will need to click-through to the site to enter the giveaway.
As a reminder, comments left on Facebook or Twitter will not be included. You must follow the instructions on the widget about the proper way to enter. Of course Facebook is in no way associated with this giveaway!
If you are looking for more giveaways, be sure to follow my Fun Giveaways Pinterest board!
Disclosure: I received a Free product for review. My opinions are 100% mine.