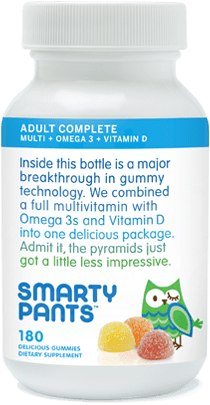 This post is Sponsored by SmartyPants but my opinions are 100% my own!
I'm excited to share with you a new vitamin I've been taking for the past week or so – SmartyPants Adult Complete – the first and only 3-in 1 Gummy Vitamin for Adults.  I love taking my vitamins now that I've discovered gummy vitamins for adults.  It almost feels like a treat to take them.  It also helps me drink a glass of water because I always pair my gummies with water.  So I get the nutrients from the vitamins and my body gets some water, all in one.   Since I've been trying to take better care of my body, I've also been taking my vitamins.   But some of the gummies I've found are very sweet.  But if I don't get the gummies, I won't take my vitamins so I've been on the search for more that I really enjoy taking.
In comes SmartyPants Adult Complete vitamins.   They are gummies and they taste like candy – so it's a total guilty pleasure for me.  But when I received my bottle and saw I needed to chew 6 a day,  I thought that was crazy.  But then I realized that these aren't only a multivitamin, but they also contain Omega 3 and Vitamin D – two other things I take every single day.  So instead of taking 2 multivitamins, 2 Omega 3s and 2 Vitamin D's, I'm taking 6 Smarty Pants Adult Complete vitamins, so really I'm not taking anymore than I was before and there is only one jar on my counter now!  PERFECT.
About SmartyPants Adult Complete
Made in California in a GMP certified facility, always gluten & casein free with no artificial sweeteners or High-Fructose Corn Syrup, SmartyPants' Adult Complete are made with Eco, Natural, and Organic ingredients. The only Multivitamin + Omega 3s + Vitamin D gummy on the market, SmartyPants is the highest quality solution that happens to taste absolutely delicious.
Since these do taste like candy, you really have to make sure you only take the instructed amount.   And also be sure they are completely out of reach of children because they won't know the difference between these and candy.
You can purchase Smarty Pants vitamins online and at Whole Foods and CVS/Pharmacy.  You can also print a coupon for $5.00 off ONE SmartyPants vitamin purchase.  That's a really nice savings because they sell for about $19.99 at CVS/Pharmacy!

(1) Koupon Karen reader will win SmartyPants Adult Complete Vitamins.

To enter the giveaway, use the Giveaway Tools widget below. Email and feed subscribers will need to click-through to the site to enter the giveaway.
As a reminder, comments left on Facebook or Twitter will not be included. You must follow the instructions on the widget about the proper way to enter. Of course Facebook is in no way associated with this giveaway!
Disclosure: I received a Free product for review. My opinions are 100% mine.