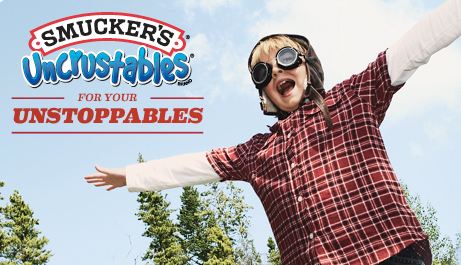 This is a Sponsored post written by me on behalf of Triad Retail Media for SocialSpark. All opinions are 100% mine.
My four year old is a picky eater but she will eat sandwiches and toast, but most times she leaves the crust behind.  Honestly I'm not even sure why she does because there are times she gobbles the entire sandwich down and other times she doesn't.  When questioned about it she tells me that she doesn't like the crust.  OK…. then why do you eat it sometimes?  She never seems to have a good enough answer for me because it's just because she's picky and wants to eat what she wants, when she wants.
No one told me how hard it would be to be a mom.  OK, maybe some people said it was hard, but I honestly had no idea.  There are something's we totally can not get our kids to do and at times that's simply eating the crust on the bread.  I guess Smucker's gets this and are helping moms by making some of kids favorite sandwiches, without the crust and we love them, Uncrustables!
I just entered to win a family adventure to Yosemite National Park through the Unstoppable contest and you should too!  There is one grand prize and nine runner up's will receive an Uncrustables Prize pack.  All you have to do to enter is upload a photo of your family that shows their unstoppable qualities in action, along with a short caption.
And be sure to "Like" Smucker's Uncrustables on Facebook and then you can also follow them on  Twitter.  Then you'll find out about promos like this right away!  I love social  media, it really keeps me in the know.
Good luck with your picky eater and if you enter the contest!