Snapfish
has a lot of new products that would make GREAT holiday gifts!  As part of the Snapfish Selects, they asked me to choose one of the new products for review.   I choose to make a Kidlandia Poster because I thought they were so cool and I know my daughter will love it.
What is Kidlandia?  It's a 'world' you can personalize just for your child.  But the best part is they have a nice variety of themes to choose from….
Whimsical World Map – This world map adds cheerful Kreechurs and playful personalization to the oceans and the far reaches of the north and south.  A fun mix of fantasy and geography, it will inspire both curiosity and the imagination.
USA Patchwork Map – Teach your child the 50 states by adding a beautiful decorative element to their room. This delightful map of the United States presents all 50 states to scale with rich colors and textures that make it memorable.
Dora The Explorer Map – Dora's fans will love placing themselves in the center of her world and joining her on all her big adventures.
Spongebob Squarepants Map – Join Spongebob and his wacky friends in their underwater world.
Veggie Tales  Map – Get together with the Veggie Crew and create a little kingdom of your own.  It promises to be a bushel of fun for parents and children.
Each one of these maps can be personalized for your child.  I choose the Dora map because my 3 year old is a HUGE Dora fan and I know she will love the fact that all of her family and friends are part of Dora's world.  I was able to name the map Allison Land and the National Holiday of Allison land is her birthday!   It was super easy to make.
Here is my Dora Map…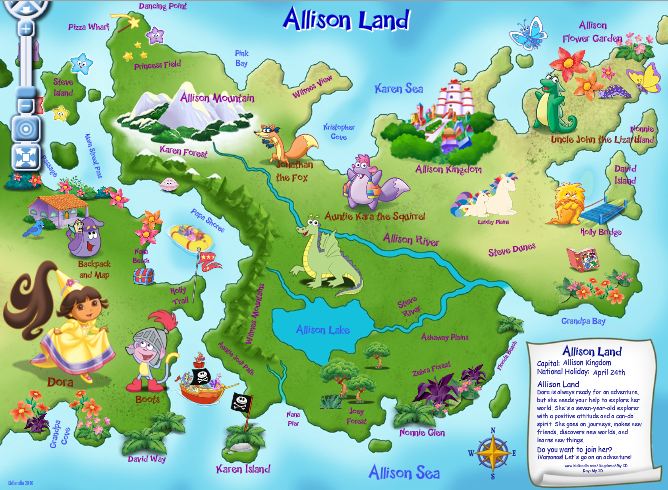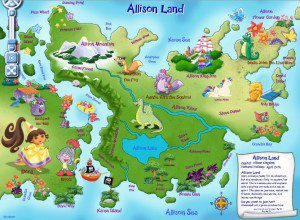 All you needed to do was fill in the boxes with the names and places you wanted included in the map.  It gave you suggestions like mother's name, father's name etc.   Each name was filled in the map as you entered it so you could see exactly where it would be and what it actually was.  For example, the first one is a name and it suggests a parents name so I put my name in and on the may the sea became "Karen Sea".  Then it asked for another parents name and I put my husband's name and then the dunes were named "Steve Dunes".   Her sister was named after a trail so it says "Holly trail".  There is a place for grandparents as well.  I used the names that she calls her grandparents so on her map we have "Grandpa Bay", "Nonnie Glen", "Nana Shores" and "Papa Beach".
Those are just a few of them on this map, there are 25 different things/places you can personalize.  It's so fun!
After the names are all complete you can then add more text (besides all the pre-filled stuff), more characters, plants, buildings, transportation and other 'stuff'.  It's so fun making this map your own.  I choose to make this for my daughter to give her at Christmas but you can have the child help you personalize it as well and I'm sure they'd have a blast doing it!
You can choose from 4 sizes of each poster…
20 x 30 – $29.98
16 x 20 – $19.94
12 x 18 – $14.98
11 x 14 – $10.00
When you receive the poster you can have it framed or what I'm going to do since I know my daughter is going to want to "play" in her imaginary land, I'm going to bring it someplace to get laminated.  Then I won't have to worry about it getting destroyed in the process.  I can not wait to give this to her!!
To make a Kidlandia Poster, Sing into your Snapfish account and look under "Kids" and you'll find them.