I got a sneak peak this week of something that VTech has been working on and I think it's pretty cool.  As of right now it's called the Innopad Tablet but since it's still in production, it's possible that may change.  Below is a picture, but again this is only a prototype so that may change a bit too.  But you get the idea.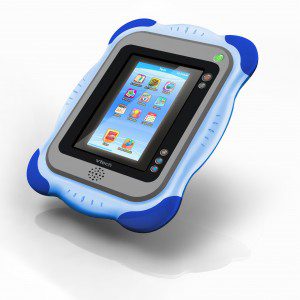 What is the Innopad?  Well it's a learning tablet for kids aged 4 – 9.  It does just about everything, it's pretty amazing.  They can play games, read e-books which in turn teach them the skills they need to learn in order to read themselves, it has an Art Studio, which I know my girls will LOVE, it has an MP3 player, video player, calendar, alarm clock, notepad, calculator and so much more!!!  Does it sound like something else on the market that's for adults?? Sure does to me!
I think VTech went beyond the  norm to come up with this and I'm so excited to be able to have it in my hands to play with and explore with my girls and then of course share it with you!  It's not available until the fall but here is what you'll be able to expect in this new Tablet for Kids.
Now you may be thinking why would a kid need something like this?  Well lets face it technology is all around us and and they are growing up with it.  My girls know how to use my iPod better than I do sometimes.  It's just an introduction to what will come as they get older.  And they will learn so much with the Innopad while having fun.
Anther thing I love about this is the price.  As of right now the SRP is going to be $79.99.  I think that's a great price for what you'll get.
Here is more information about the Innopad that VTech shared with me….
Interactive, Animated E-books – Stories come to life through interactive, animated e-books that offer story narration, character voices, animation, vivid graphics, sounds and music. Kids will learn and enjoy reading comprehension, vocabulary, phonics, word building, and interact with animated characters. As they read, kids will watch the words highlight and can touch individual words to hear them pronounced. Each e-book comes with a story dictionary offering word definitions that are easy for kids to comprehend and helps with the context of the story.
Learning Games – Using the touch screen and tilt-sensor, kids can have hours of fun with learning games. They can control how they play, and develop the skills of using touch applications including tap, flick, pat and drag-and-drop so they can have the same technology and fun as parents do with their touch-screen devices. Using the tilt-sensor they can control the onscreen fun by turning, tilting and moving the tablet in different directions to manipulate the image on-screen.
Creative Activities – The tablet lets kids bring out their creative side with an Art Studio offering painting and drawing applications they can use with their fingers or the included stylus. It also provides a Photo Viewer/Editor.
Feature-Rich Software Cartridges – The tablet offers full-feature cartridges providing interactive e-books, learning games and creative activities.  Kids can play and learn with their favorite characters, such as Toy Story, Dora the Explorer and Disney Princesses. This expanding library of cartridges starts with nine titles at launch, including:
Disney/Pixar's Cars 2
Disney Fairies
Disney Princess
Dora the Explorer
Mickey Mouse Clubhouse
The Penguins of Madagascar
Scooby-Doo
SpongeBob Squarepants
Disney/Pixar's Toy Story
Applications– Kids can maintain their multi-media lives with the tablets integrated MP3 player to listen to their favorite songs, as well as view videos with the Video Player.  Other integrated applications include a Calculator, Calendar, Notepad, Clock with personalized voice alarm and Friends Address Book.
Online Value – The tablets easily connects to a PC or Mac computer via USB port and has an SD card slot for memory expansion so you can download interactive e-books and learning games from VTech's Learning Lodge Navigator (www.vtechkids.com/download). Over 100 download titles will be available by the end of the year.  Parents can also use the Learning Lodge Navigator to stay abreast of their kids progress on a variety of educational milestones and lessons.
Product Price : The SRP at launch will be $79.99
Purchase Information: It will be available at Target, Toys R' US, Walmart, Amazon.com and VTechKids.com
Disclosure: I did not receive any compensation for this post.  My words are my own.