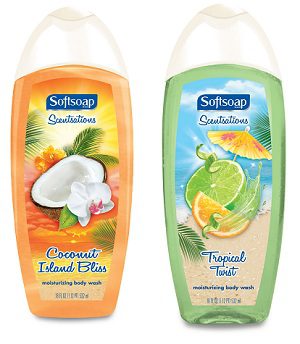 Product Name:  Softsoap Scentsations
Product Information:  Dreaming of a warm weather escape? With the help of new Softsoap Scentsations summer limited edition body washes, your vacation can be scheduled at a moment's notice!
New Softsoap Scentsations Coconut Island Bliss and Tropical Twist body washes have moisture rich formulas that will keep sun-kissed skin soft and glowing throughout the season. The island-inspired fragrances will instantly transport you to happy afternoons on the beach and fun-filled summer parties with friends.
Softsoap® brand Coconut Island Bliss
Transform your shower into a tropical vacation with Softsoap® brand Scentsations Coconut Island Bliss. The moisture-rich formula hydrates skin, leaving it soft and smooth. The warm island-inspired fragrance is infused with hints of coconut and mango, refreshing senses and conjuring up images of sunny beach days.
Softsoap® brand Tropical Twist
Nothing says summer quite like soaking up the sun while sipping a tropical drink. New Softsoap® brand Scentsations Tropical Twist fills the shower with images of these types of warm weather memories. This new variant is formulated with suspended moisture beads to help skin stay soft and supple; while the lush fragrance of pineapples, oranges and freesia will instantly transport you to happy afternoons on the beach and fun-filled summer parties with friends.
Product Price :$3.48
Purchase Information: Available for a limited time at Walmart from May until October 2012
My Thoughts:  I love yummy smelling body washes and these did not disappoint me at all!  The Coconut Island Bliss smells like summer to me so it's perfect for the summertime.    The creaminess of the body wash gives it a real nice lather, which is another thing I love in body washes.  I will be sad when this one is no longer available because it's quickly become my favorite body wash!
The Tropical Twist smells AMAZING and REFRESHING all at once!  After I used this the girls came into the bathroom and were so excited about how nice it smelled in there.   It was all from the Tropical Twist body wash!  The smell isn't overpowering, but definitely noticeable for a little while after using it.  And the citrus makes it very comforting.
Even though I really enjoy using these two scents, I'm glad that Softsoap is doing limited edition scents because that just mean they will continue to try and make fun products for every season and I love change!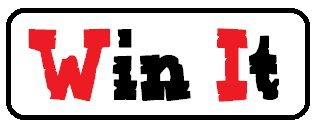 (1) Koupon Karen reader will win one of each Softsoap Scentsations Coconut Island Bliss and Tropical Twist Body Washes.
To enter the giveaway, use the rafflecopter widget below. You can now sign in with Facebook and it will remember you each time you enter another rafflecopter giveaway. Of course Facebook is in no way associated with this giveaway, the people of rafflecopter just want to make it easier for you to enter giveaways now.
As a reminder, comments left on Facebook or Twitter will not be included.
Disclosure: I received the same prize as the winner for review. My opinions are 100% mine.