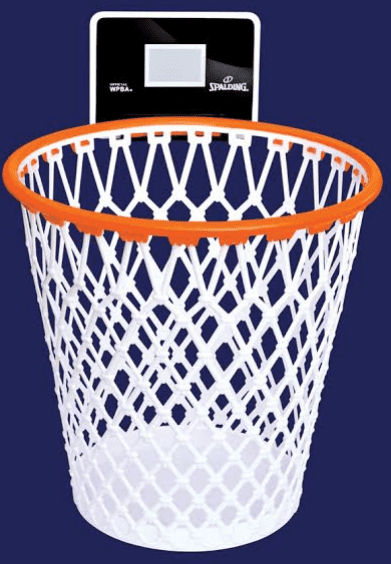 This post is Sponsored by Spalding but my opinions are 100% my own!
Have a basketball fan in your house?  The Spalding licensed Wastepaper Basketball basket is a sturdy, plastic, realistic-looking basketball hoop.  But it is much more than just a wastepaper basket…we're not just talking trash!   It's a gift, it's a game, it's a gas!
This patented basket with 12 ½ inch rim height and hoop diameter makes for a fun and exciting, novel way of playing the 15/15/45 wastepaper basketball challenge.  It's the perfect gift for any occasion…for Graduation, Father's Day, March Madness, Back-to-School, and the perfect Holiday or Birthday gift.
It's recommended for all ages and sells for $16.99 with a backboard or $12.99 without a backboard.
With the replication of an official basketball hoop, the wastepaper basket can be used to improve the perfect slam-dunking talents.
It's not only a garbage can, but it also turns into a fun game!! It's called the 15X15X45 Game – and all you need is some trash (yes, trash), the Spalding Wastepaper Basketball Basket, and 45 seconds!
This is how it works:
15 wads of paper (8.5″ x 11″)
15′ from Wastepaper Basketball wastepaper basket
45 seconds on the clock
Most baskets in 45 seconds win!
Where to purchase? You can find this fun wastepaper basket at Bed Bath & Beyond and several other retailers!
This is a GREAT basket and the perfect size for a bedroom or even an office.  And it's made well and sturdy.   The basketball hoop makes it fun and a great piece to display, even with trash!  My nephews loved it and were happy when I gave it to them.   I love the idea and the game is pretty cool too!
Disclosure: I received a Free product for review. My opinions are 100% mine.