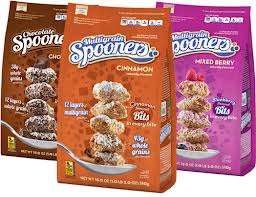 This post is Sponsored by MOM Brands' but my opinions are 100% my own!
I'm excited to tell you about MOM Brands' newest addition to its ever-expanding portfolio of cereal brands: Spooners® ready-to-eat brand cereal!   I love cereal and always have.  My girls take right after me and enjoy cereal anytime of the day.  I love the Spooners cereals because they left out artificial flavors, artificial preservatives, high fructose corn syrup and hydrogenated oils so there's more room for nutritious, delicious, wholesome ingredients!!  Just what I want my kids to start their day off with.   And to top it all off they are made from 100% whole grain shredded wheat biscuits.
If you have kids that all like different things, then there is probably a Spooners cereal for each one.  The line includes five delicious new varieties with flavored morsels baked into the middle for even more taste:
Mixed Berry Multigrain Spooners – Made with blueberry morsels baked inside and a just-sweet-enough raspberry frosting
Cinnamon Multigrain Spooners – Made with 43 grams of whole grains per serving and cinnamon morsels baked inside
Original Multigrain Spooners – Each serving has 55 grams of whole grains and 7 grams of fiber for a no-nonsense breakfast
Frosted Multigrain Spooners – A 12-layer biscuit with a touch of sweetness baked inside, along with 44 grams of whole grains
Chocolate Spooners with Chocolate Chips – For the kid in all of us… a chocolate fix that's good for you
My favorite is the Cinnamon multigrain.  There is just enough Cinnamon flavor to make this cereal very yummy and to flavor the milk.  I always like to drink the rest of the milk once the cereal is gone.  I also liked the Chocolate Spooners and one day when my dad was over he saw the bag on the counter and was looking for a snack.  So he popped a few in his mouth and loved them.  I ended up sending him home with some to snack on in the car.  He liked them right out of the bag, no milk added!
My oldest daughter loves the frosted and mixed berry the most (thought she enjoyed each bag very much!).  One day we crumbed up a couple and added them to the top of vanilla yogurt.  Such a GREAT IDEA!!!! and it was really good with the crunch from the cereal.   We talked about different things we could top these with and she suggested pudding as well.  We didn't try any yet but I'm sure they'd make a great pudding topper as well.
Did you notice I referred to the packaging as bags and not boxes?  That is because they come packaged in an innovative stand-up bag!  Spooners contain 75% less consumer packaging waste than comparably sized bag in box ready-to-eat cereals.  I like that part too!   The bag has a re-closeable tab to keep them fresh.
And these are a fraction of the cost of other brand named cereals so you are sure to save money too!
Disclosure: I received a Free product for review. My opinions are 100% mine.