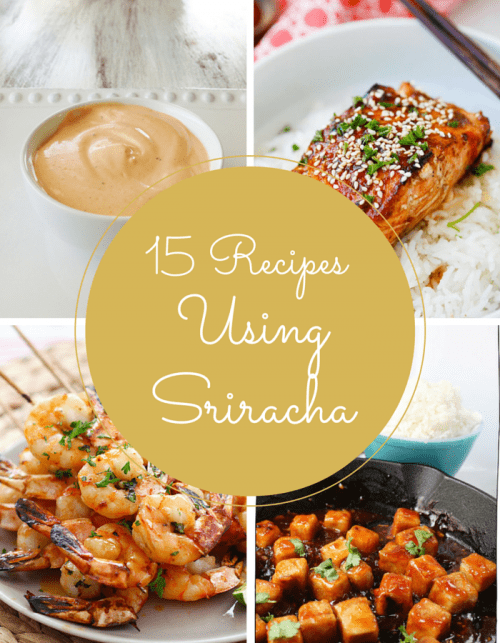 Sriracha is the new buzz and ranges through all ages and generations.  It's been around for a while but just recently became a famous household condiment.  Personally, I got addicted to it as well.  It has a super spicy kick but, like a lot of hot sauces, it doesn't leave you hanging in the taste department.  Check out these 15 Spicy Sriracha Recipes we found that not only sound amazing, but look amazing too!!
15 Spicy Sriracha Recipes
Sriracha Cauliflower Bites with Peanut Dipping Sauce | Kim's Healthy Eats – Are you in to using cauliflower as a substitute for some of your food? Try this zesty appetizer!
Sweet and Spicy Sriracha Tofu | It Doesn't Taste Like Chicken – If you're in to vegan and find yourself lacking in recipes for your next meal, try this tasty meat alternative with a kick!
Sriracha Roasted Chickpeas | French Press – Snacks are always nice to have around for in between meals. Make your snacking even better with this spicy delight!
Skinny Sriracha Aioli | The Skinny Fork – Dress up your next sandwich with this creamy flavor-filled sauce!
Sriracha Deviled Eggs with Crumbled Bacon | La Crema – Who doesn't have deviled eggs at their picnic? Not many people, so don't be that small percent who doesn't! Try this recipe out next picnic around!
Cheesy Sriracha Chicken Dip | Bare Feet in the Kitchen – Dips always go over well at any shin dig, this dip will be no different!
Sriracha Maple Oyster Crackers | The Cookie Rookie – Sweet and spicy is just my style.  These delectable oyster crackers are sure to be addicting.
Easy Sriracha Kale Chips | Sarah Hearts – Eat healthy without lacking in flavor.  Try these spiced up crunchy chips!
Homemade Sriracha Sauce | Fresh Bites Daily – Want to make oodles of your own sriracha sauce?  Here's how you can do that!
Sriracha Chicken Quinoa Bowl | Kim's Healthy Eats – My older sister would fall in love with this if only I could get her to like spicy stuff. More for me!
Sriracha BBQ Sloppy Joes | Life's Ambrosia – Give a zing to your typical Joe sauce and watch your family scarf it down.
Spicy Sriracha Chicken Salad | Thyme Bombe – Chicken salad is great for a light summer lunch but add some weight and you've got this recipe!
Spicy Sriracha Shrimp and Zucchini Lo Mein | Baker by Nature – Add a little bit of Asian to your plate with this seafood recipe!
Sriracha Popcorn | Domestic Superhero – This great movie snack may make you jump more than the movie you're watching!
Honey Sriracha Salmon | Rasa Malaysia – Salmon is great all the way around but it's the best when you try it with this recipe!
Don't forget to grab your water once you choose which of these Spicy Sriracha Recipes you're going to make first!