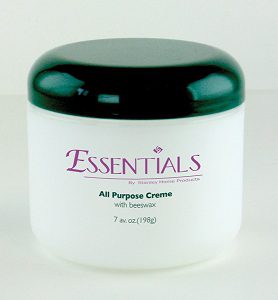 Product Name: Essentials All Purpose Creme
Product Information: A classic formula of beeswax blended with rich emollients and moisturizers to cleanse, moisturize, and protect; the All Purpose Creme helps soothe tired skin and preserve a youthful touch.
Product Price: $11.99
Purchase Information: You can purchase it online at StanleyHomeProducts.com.
My Thoughts: My hands get really dry in the winter, not just from the cold weather but from washing them as often as I do.  So a good hand creme is essential to me.  While I have lots that I like, and work well, I'm always open to another one.  I received the Essentials All Purpose Creme and immediately tried it.  It has a nice light scent and went on very easily.  It didn't leave my hands greasy and after it all asorbed, they felt great!  I found that a little goes a long way with this creme.  I used it on my elbows which get very rough and on my legs a few times a week and I noticed a nice improvement!
It's definitely pricy a $11.99 a jar and while I share bargains with you all the time, this is actually a pretty good bargain when you think of how much use you get out of it.  The jar is 7 oz but since you don't need a lot at once, it lasts a LONG time so overall it's a small investment that is worth it.  I've been using this jar since October and there is a little less than half left, so spread that out over about 5 months and the cost is only $2.40 a month!  Not bad.
Disclosure: I received a FREE product for review. My opinions are 100% mine.