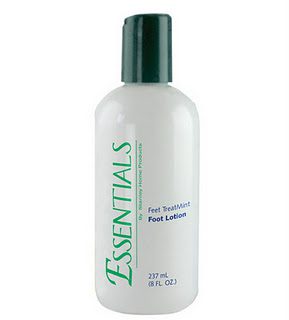 Product Name: Essentials Feet TreatMint Foot Lotion
Product Information: Essentials Feet TreatMint Foot Lotion has all the robust soothing action of a visit to the spa, available at the cost of your usual care product. With peppermint, menthol, and camphor oils, Essentials Foot Lotion is an invigorating foot therapy; moisturizing and working deep to help your feet unwind. With a collagen-rich formula, the Foot Lotion helps your feet stay young and pliable. Stanley Home is here to assist in all aspects of home care, and the Foot Lotion is just one small part of that.
Product Price: $7.49
Purchase Information: You can purchase it online at StanleyHomeProducts.com.
My Thoughts: I love the smell of mint, it truly is relaxing to me, but if you don't want to smell like mint for very long, then I recommend you don't use this or only use it only at night.  That being said I love this product!  The mint smell isn't very powerful but lasting.  The lotion really made my feet feel nice and soft and after a long day, it relaxed them and was amazingly therapeutic!  When I do use this, I put it on before bed and enjoy feeling relaxed between the mint smell and the way it makes my feet feel.
This is another product that a little bit goes a long way so at $7.49 a bottle, and considering this isn't something you'll probably use everyday, I think it's a great bargain because it will probably last you about 6 months – which comes out to about $1.25 a month.  You can't pay that for high end salon foot treatments, that's for sure.  Have your husband give you a nice foot massage with the TreetMint Foot Lotion and save yourself some money!
Disclosure: I received a FREE product for review. My opinions are 100% mine.