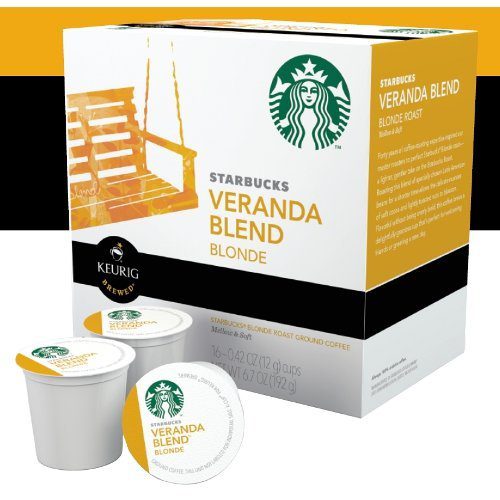 Product Name: Starbucks® Veranda Blend™ Blonde K-Cup® Packs
Product Information: Roasting this blend of specially chosen Latin American beans for a shorter time allows the delicate nuances of soft cocoa and lightly toasted nuts to blossom. Mellow and flavorful, this coffee brews a delightfully gracious cup that's perfect for welcoming friends.
With its calm and laid-back character, this coffee pays homage to the art of porch-sitting. Named for the serene terraces decorating towns and neighborhoods throughout the regions where these beans were grown, Veranda Blend™ is a gentle and inviting cup best served with a sunny day, a good friend and nothing in particular to do.
My Thoughts:  I love mild coffee so I was not a fan of Starbucks coffee until I tried the Veranda Blend Blonde coffee.  Now….
I.
Am.
In.
Love!!!
I've been scouting out all the local Starbucks so I could have one, and so sad when I went to Barnes & Noble the other night and she told me they do not carry the Blonde blend.  However, I can just have some at home now because they make them in a K-Cup!!  Oh how I love my Keurig!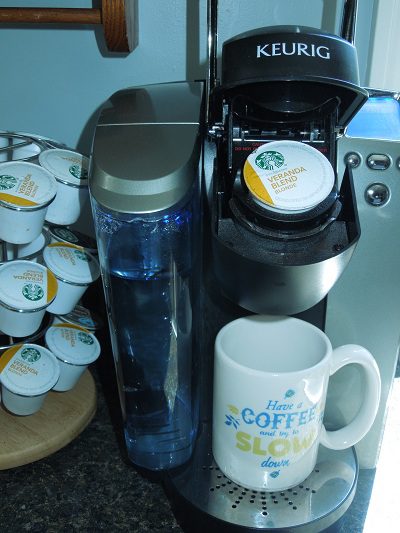 I received a bunch of boxes of Starbucks® Veranda Blend™ Blonde K-Cup® Packs for my review and I've been enjoying them – A LOT!  I'm  actually going to make a cup soon, once the kids are in bed!
It's a mild coffee with a lot of flavor.  I'd say it compares a lot to a Breakfast Blend but it loo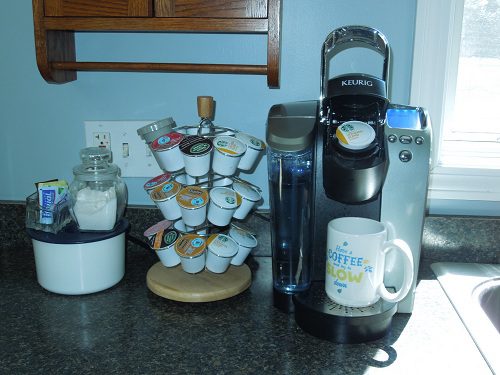 ks like Starbucks has a Breakfast Blend as well, which I haven't tried yet.  But it's mild and oh so good!
This really is my favorite place in my kitchen…  My coffee station! ——>
Have you tried this yet?  Would you like too??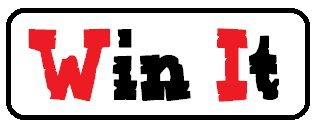 (1) Koupon Karen reader will win a months worth of Starbucks® Veranda Blend™ Blonde K-Cup® Packs (3 boxes of 10)!

To enter the giveaway, use the rafflecopter widget below. You can now sign in with Facebook and it will remember you each time you enter another rafflecopter giveaway. Of course Facebook is in no way associated with this giveaway, the people of rafflecopter just want to make it easier for you to enter giveaways now.
As a reminder, comments left on Facebook or Twitter will not be included.
a Rafflecopter giveaway

Disclosure: I received the same prize as the winner for review. My opinions are 100% mine.