Cold & Flu season is in full swing.  Everyone in my family has been hit with a cold and we are just hoping to be able to avoid the flu.   There have been a few cases in our area of flu and every one is getting a flu shot.  The cold weather is hard enough, but to be sick on top of it makes it even harder to stay healthy during cold & flu season.
I was sick for 2 weeks with an awful cold that wouldn't go away.  I'd start to feel better and then WHAM I didn't feel good again.  Part of the problem is, as a mom it's hard to get the rest you need when you are sick.  I'm on the go all the time.  But I had to just toss in the towel and rest for a few days or I wasn't ever going to get better.  I stocked up on what I needed on Friday at CVS and then watched everything on my DVR all weekend (and then some) and just rested, drank lots of fluids and took my medicine.  Guess what?  It worked!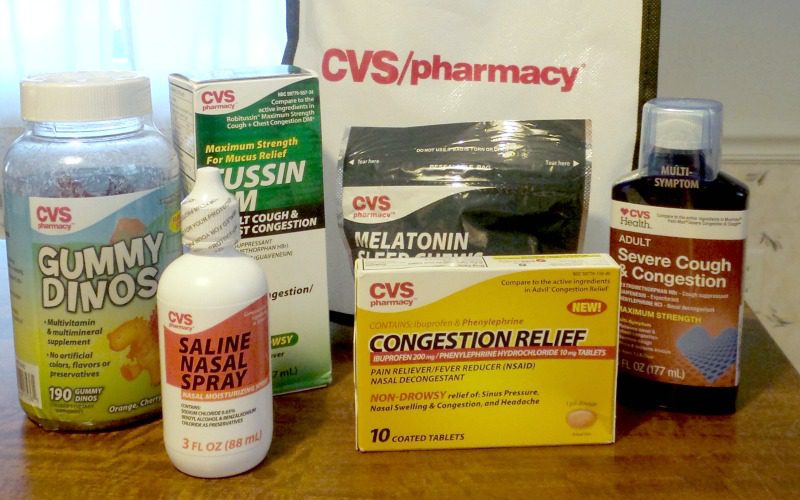 I'm so glad I live so close to a CVS (I have one at the end of my street!) because they really do have everything you need to stay healthy during Cold & Flu Season.  From medicine to help you rest, sleep & breath to tissues and Vitamins to help you bounce back!  And with the ExtraCare card you can save everyday!  Plus their store brand products work just as well as the name brand products, but cost less!  That's all I ever use.
Of course wouldn't it be great if we just didn't get sick?  These amazing ways to stay healthy during cold & flu season are so simple to include in your daily life this year. Everyone faces the fear of falling ill during cooler months when viruses, allergies and flu tend to run rampant.  While you can't prevent all illnesses, there are tons of great things that will help you to build up your immune system and protect yourself from potential illness this year.
4 Ways to Stay Healthy during Cold & Flu Season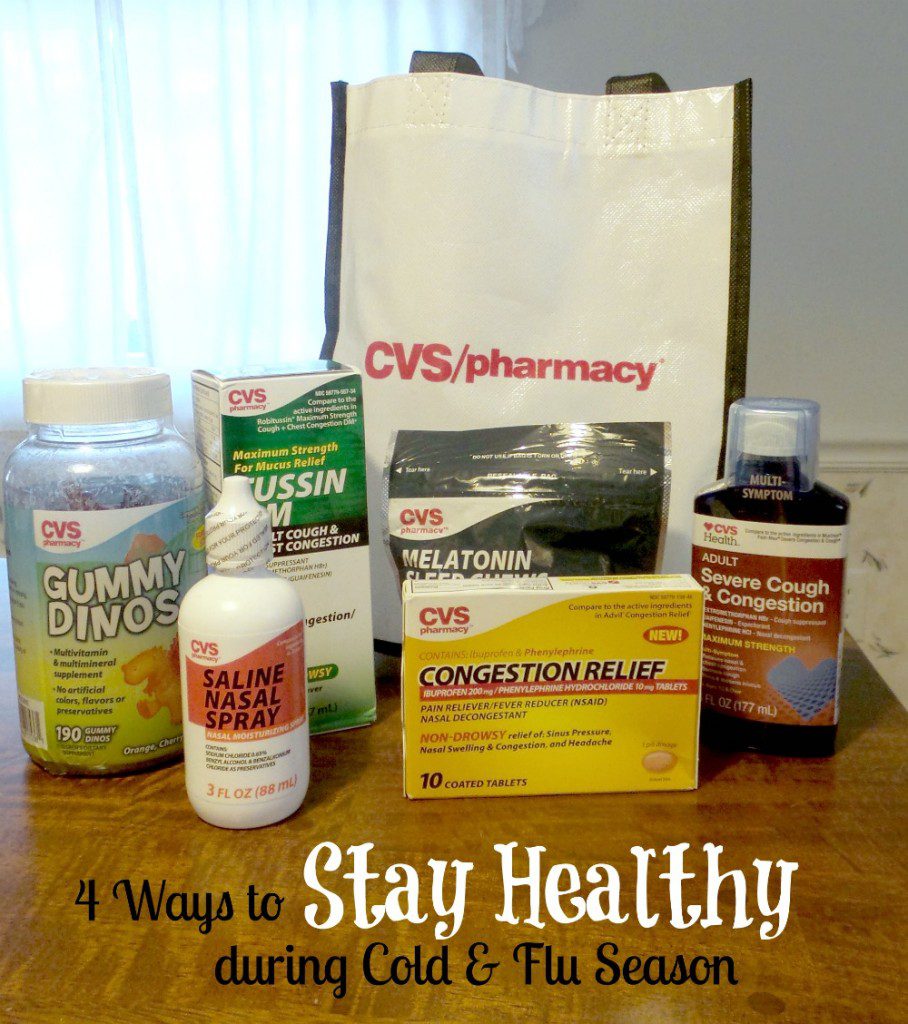 Stop drinking and eating after other people.  As parents, we fall victim to this more than others.  Think about what you do when your kid doesn't finish their sandwich, drink or ice cream.  You most likely pick them up and clean their plate for them since it's such a small portion. Stop this bad habit, and stop drinking after your kids or spouse.  The passing of germs back and forth from this habit is often how the whole family ends up sick.
Exercise regularly.  Exercise is a great way to boost your overall health.  Your body will function better, you will sleep better and you will be processing food better.  Regular exercise is a great way to prevent winter colds & flu this year.
Keep your hands away from your face.  The more you touch your face the more likely you are spreading germs.  Whether it is rubbing your eyes, nose or mouth – germs are on your hands more than any other part of your body.  If you have the habit of biting your nails, that is even worse.  Keep your hands away from your face to prevent more germs from going into your mouth or nasal passages.
Get extra vitamin C.  Vitamin C has long been a wonderful immune boost.  From a daily orange or orange juice, to adding extra kale or spinach to your smoothie, vitamin C is easy to get in the foods you eat regularly.  You can also take a supplement if you feel you aren't getting adequate amounts in your food.  CVS runs sales all the time on their vitamins and supplements so it doesn't even need to cost you a lot!
These ways to prevent winter colds & flu are truly common sense practices.  Simply think about your actions and take good care of your body and you will be healthier this cold & flu season.