he beginning of the summer,  I moved to another part of Rhode Island, closer to my husbands job and closer to family and friends.   It was a moved that I have wanted to do for a long time (since having children) and I'm so glad we finally did it.  I was so excited when we sold our house as we already found one we loved.  But once the bids were accepted and the papers were signed, I then realized we had to pack up everything in my house.  The fun would soon begin!
One thing I really wanted to do was try my best to stay organized while packing because I knew it would be a huge job once the boxes were moved into our new home.  Imagine people moving about 100 boxes into a house but putting them anywhere!  I had anxiety thinking about this knowing that I would be the main one trying to find out where everything went.  So I came up with an idea – I would put a piece of colored tape on the top of the box to represent what room it would go into.  Then on moving day, I could put a piece of tape in the doorway of each room so the movers would know exactly where the box went.  I figured it was much easier then writing it on the box and putting it somewhere they would see it.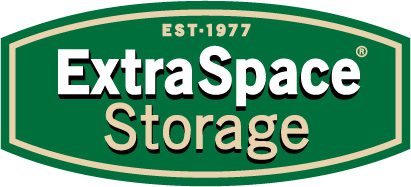 So as I packed up my boxes, including the boxes I received from Extra Space Storage (they sell all sorts of moving supplies!), I color coded them with duck tape.  I tried to pick colors that went with the room or person so it was easier to remember who's was who's.
Yellow – Kitchen (my old kitchen was yellow)
Red = Office (Red for Koupon Karen!)
Purple = my youngest girls room (she loves purple)
Turquoise = my oldest girls room
Pink = master bedroom
Grey = my husbands books (he has a lot of books!)
The movers were so excited when I showed them what I did!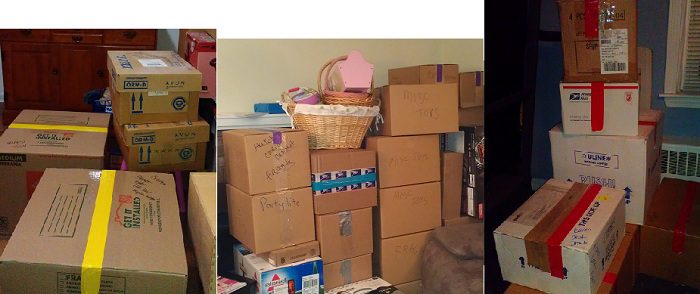 But the reality is, moving day was still pretty hectic.  My husband had a problem with his car while we drove to the new house so since he had the day off already and we were close to the dealership, he brought it in there while the movers unloaded everything.  So that left me being in charge of where things went.  So for those boxes that weren't color coded with tape and the furniture that we didn't put tape on, I stood in the moving truck directing them to what rooms they went to.  Then once in the rooms I helped figure out where to put all the furniture.  Luckily the company we used was awesome and they remembered what rooms most of the furniture came from, but still it was a bit crazy because they worked faster than I could direct!
And since my husband left me to do all the directing, he had no say in what I decided!  He was just happy most of the furniture was there when he returned.   If you've ever moved then you know how stressful it can be.  But I must say we handled it all pretty well together and not once did we get frustrated or upset with each other during the move.  That's pretty good, don't you think?!
The girls did great through out the whole day. Their cousins were over so they had fun playing with them and they thought the whole process of moving was exciting anyways, thankfully!  So that really helped.
Now for the real fun part of our day…  We were closing on both houses the next day but were able to move in a day early, but right as the movers were finished bringing the last of our belongings into our new home, we received a phone call from my lawyers office…. it wasn't a pleasant call.   The people purchasing our house had some special financing so it involved a lot of paperwork.  As of that point in the day, they hadn't received the 'clear to close' and my lawyer wasn't sure if they were going to before the time we had scheduled the next day to close.  UT OH!  She assured me there was no problem, but just that the paperwork hadn't all been completed and we might have to push the closings a day or two off OR it could just happen later in the day.
But we just moved all our stuff out of our home into the new home we were purchasing.  This made me very nervous.  So we waited by the phone all night, and then all morning the next day to hear that it was all good and we could close on both houses.   We finally got a call about noon the next day that we were all set and we could sign all the final paperwork later that afternoon and then everything would be filed with the towns first thing in the morning.  WHEW!  That was close.
So once we got over that hurdle, we went home and started to make our new home, a HOME!  And we have.  If only I could get the last of those boxes unpacked.  My goal is to have it all done by the holidays!  If you'd like to read more about my moving experience, go here.
If you are moving make sure you check out Extra Space Storage because they sell lots of moving supplies.
Disclosure: I received a gift card to purchase items at Extra Space Storage to help with my review.  My opinions are 100% mine!