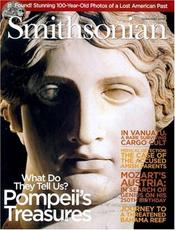 Subscribe to Smithsonian Magazine for only $8.99 a year!
Today only, you can subscribe to Smithsonian Magazine for only $8.99 per year up to 1 years. Just click THIS LINK and enter coupon code KOUPONK at check out to receive the discount.
About Smithsonian Magazine

Smithsonian is world renowned for its editorial content and coverage. Each issue is filled with beautiful images, fascinating stories from around the world, and in-depth explorations of history, people, nature, science, travel and the arts. You'll love to share this magazine subscription with your whole family. Order your copy today!
This offer expires on Thursday 11/07/13 11:59 PM EST.
Don't want this magazine?
You can still save 20% on other titles when you use coupon code KouponK at DiscountMags.com. Just add the magazine to your shopping cart and enter the coupon code to receive the discount!