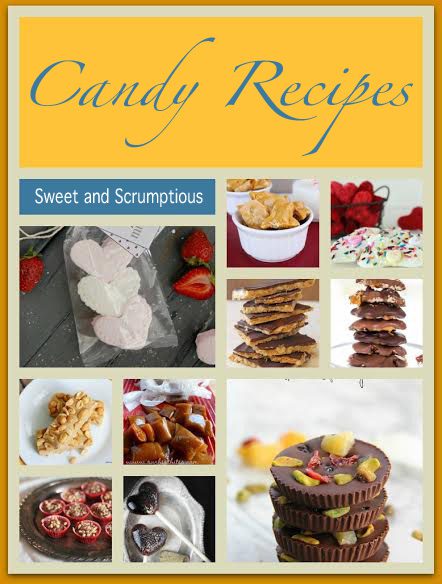 I don't think this post needs much of an introduction – 15 Sweet & Scrumptious candy recipes pretty much speaks for itself.    I spent some time drooling over these recipes and decided that I needed to share them with you.  Make sure you eat before you look at these candy recipes.  And I'm warming you, I gained 5lbs just looking at the screen!
Here are some of my favorites candy recipes that I have pinned and plan to make very soon!
15 Sweet & Scrumptious Candy Recipes
Living on a Dime – Molded Party Mints Recipe – These are perfect for Birthdays, Weddings and Showers!  And you can do them any design you like.
The Frugal Navy Wife – Kahlua Fudge Recipe – This is made with real Kahlua so probably best for just and Adult party but I can't wait to make these!
Oh Nuts – Nutella Candy Hearts – Oh my heart!  These look AMAZINGLY delicious – Nutella + Frosting in a piece of candy??  Yes, I would like some please!
Sugar Hero – Spicy Peanut Butter Toffee – I love making Toffee.  It's really so easy and everyone always loves it.  This is a great one to add to my list of Toffee's!
Sprinkle Bakes – Red Wine Lollipops –  Yes you read that correctly, red wine lollipops!  These sound great and I think they'd be perfect for a bridal shower or bachelorette party!
Annie's Noms – Mini Egg Fudge – This recipe is perfect for turning leftover candy into something else!
Love Bakes Good Cakes – Conversation Heart Bark –  Another easy recipe that the kids can help you make!
Our Best Bites – Apple Cider Caramels – I love Caramel, don't you?
Cookies and Cups – Crock Pot Candy –  You can make candy in the crock pot?  I had no idea.  There's really nothing easier than that!
Averie Cooks – Homemade Turtles –  These are so simple to make and the pictures she has will make you instantly crazy chocolate!
 Lil Luna – Homemade Pay Day Candy Bars –  I love baking that doesn't involve turning on the oven.  Here is another great candy for peanut butter lovers!
 Love Bakes Good Cakes – Microwave Peanut Brittle –  I never thought about making peanut brittle until now.  And I never would have thought to put it in the microwave!
 Slap Dash Mom – Easy Chocolate Peppermint Bark Recipe –  This one is perfect for the holidays!  Peppermint always makes me think of the Christmas season.
The Kitchen McCabe – Homemade Fresh Strawberry Marshmallows – Strawberry Marshmallows!  Oh how good these would be for making S'Mores!
 Eat. Drink. Love. – Dark Chocolate Fruit & Nut Cups –  Wow!  Healthy and probably the easiest of all to make!
How many of these candy recipes are you going to pin and make?