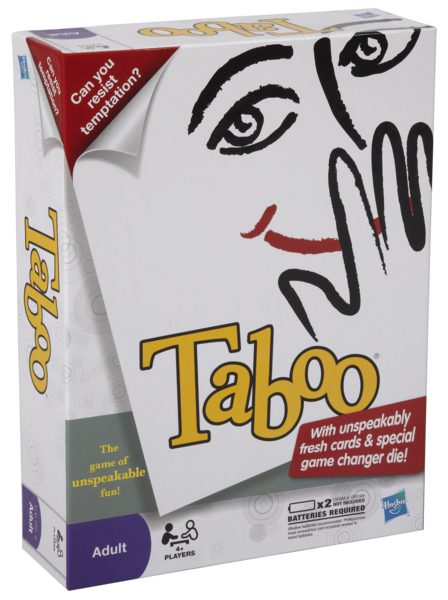 Product Name: Taboo
Product Information: TABOO, everyone's favorite game of forbidden words, has gotten a makeover in 2011! Now with a new, sleek look, game changing die and hysterical "Uh-Oh!" buzzer sound, players will frantically try to get their teammates to guess the winning word without using the Taboo words and phrases on their card. How do you get your team to say the word "heart throb" without saying "teenage," "idol," "star" or "movies"? With more than 1,000 words for players to try to guess, the "unspeakable" fun can continue for hours.
Never played Taboo before?  The objective of the game is to be the team with the most points at the end of the game.  Each player helps the team guess a specific word on a card without using the words that are off limits.  But be careful – Opponents will be listening for the TABOO words that can't be used in game play. Each time a team hears a TABOO word they can sound the new "Uh-Oh!" buzzer, signaling that the opposing team's turn is up! But if team members guess the word before the buzzer sounds, a point is won.  And now a new game changing die adds even more excitement to the game, forcing players to do things like not speak or use their hands on their turn!
4 or more adult players and requires 2 AA batteries.
Product Price: $26.99
Purchase Information: You can purchase it at mass merchandise retailers nationwide
I remember the first time I played Taboo – it was a LONG time ago but we loved it right away.  It's so hard but yet so much fun.  It really gets you thinking and the new game rules make it that much harder which equals even more fun!  Then add a bottle of wine to the party and it's never ending laughs.  That's what we like to do.  I just wish we had friends over more often so we could play more!

(1) Koupon Karen reader will win at Taboo game!
To enter the giveaway, use the rafflecopter widget below. You can now sign in with Facebook and it will remember you each time you enter another rafflecopter giveaway. Of course Facebook is in no way associated with this giveaway, the people of rafflecopter just want to make it easier for you to enter giveaways now. If you aren't sure how to use the Rafflecopter Widget, check out my friend Nicole's post about using the widget to enter giveaway's. She did an awesome job of explaining it!
As a reminder, comments left on Facebook or Twitter will not be included.
Disclosure: I received the same prize as the winner for review. My opinions are 100% mine.