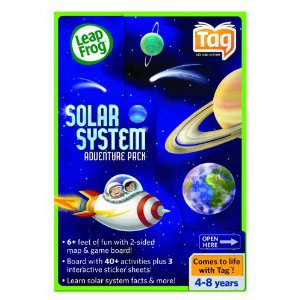 Product Name: Tag™ Solar System Adventure Pack
Product Information: Take off on an out-of-this-world adventure with the interactive, two-sided Tag™ solar system map! Play more than 40 activities and family-friendly games with this 2-in-1 map that unfolds to over 3 feet! Learn solar system terms and planetary facts, and log your journey with bonus interactive stickers!
Appropriate for children ages 4 to 8 years. Parents can follow their child's play and learning progress on the LeapFrog® Learning Path.
Product Price: $13.99
Purchase Information: You can purchase it online at Leapfrog.com and Amazon
.
My Thoughts:  My girls love learning, they really do. And before this arrived, my husband and the girls were working their way through a book about the solar system that he picked up on clearance when Border's Book stores closed. They are memorized by it and want to know everything that book has to say. It's pretty cool. And they absorb so much of what he says. So when the Tag Solar System map showed up, they were super excited.
That night they grabbed the map and sat with daddy exploring all there was to explore. They loved finding the planets and playing the games. They loved hearing the facts and then discussing them even further with dad. He had a great time playing with them.
These type of interactive toys are awesome as far as we are concerned because like I've said before, if they are having fun and learning at the same time, without even realizing it, then learning becomes fun and we are all for it.
This is an awesome addition to the Tag Reader if you already have it and at this price point, you can't beat it!
It folds up nicely and will fit on the bookshelf with the other books too!
Disclosure: I received the product above for FREE for review. My opinions are 100% mine.