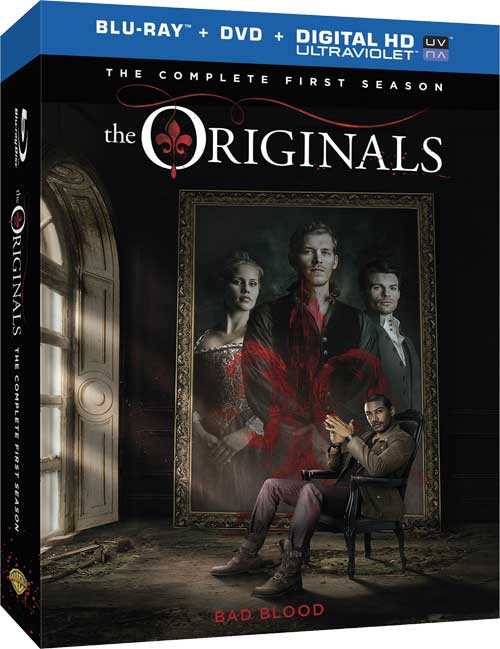 This post is Sponsored by Warner Bros. Home Entertainment but my opinions are 100% my own!
The Originals: The Complete First Season
Ready to get sucked in? Just in time for the Season Two premiere on The CW, Warner Bros. Home Entertainment Group will released The Originals: The Complete First Season on DVD and Blu-ray Combo Pack on September 2, 2014.  Season One is also available to purchase on Digital HD.  The Originals is The CW's #2 show among adults.
For all you Vampire fans, The Originals is about the original vampire family and the dangerous vampire/werewolf hybrid.  It's a sexy and thrilling new series from the Vampire Diaries' executive producer Julie Plec.   Klaus returns to the magical melting pot that is the French Quarter of New Orleans which he helped build centuries ago.  Klaus' received a mysterious tip that a plot is brewing against him so his questions lead him to his diabolical former protege Marcel.  Marcel isa  charismatic vampire with total control over the human and supernatural inhabitants of the city.  Elijah, Klaus' brother, is determined to help him find redemption but as he follows Klaus, he's forced to side with Marcel's enemies.  Meanwhile, Rebekah – Klaus and Elijah's sister must decide if she'll join her brothers to help them reclaim their home town, New Orleans and all it's offerings.
All 22 episodes along with special features will keep you on the edge of your seat and wanting more.  Thankfully Season Two is right around the corner!
The Originals: The Complete First Season will cost $59.98 for the DVD and the Blu-ray Combo Pack is $69.97.  You can find these where movies are sold.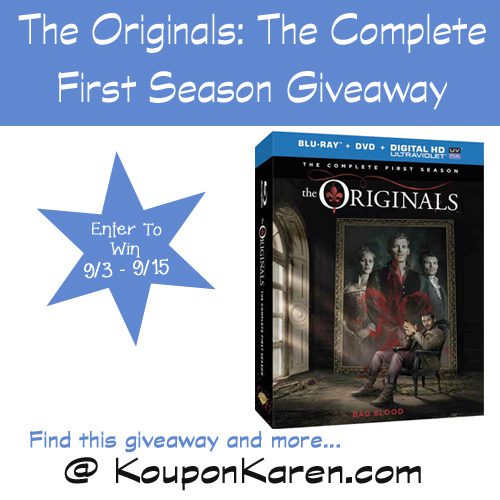 (1) Koupon Karen reader will win a copy of The Originals: The Complete First Season on DVD and Blu-ray Combo Pack!

To enter the giveaway, use the Giveaway Tools widget below. Email and feed subscribers will need to click-through to the site to enter the giveaway.
As a reminder, comments left on Facebook or Twitter will not be included. You must follow the instructions on the widget about the proper way to enter. Of course Facebook is in no way associated with this giveaway!
If you are looking for more giveaways, be sure to follow my Fun Giveaways Pinterest board!
Disclosure: I received a Free product for review. My opinions are 100% mine.