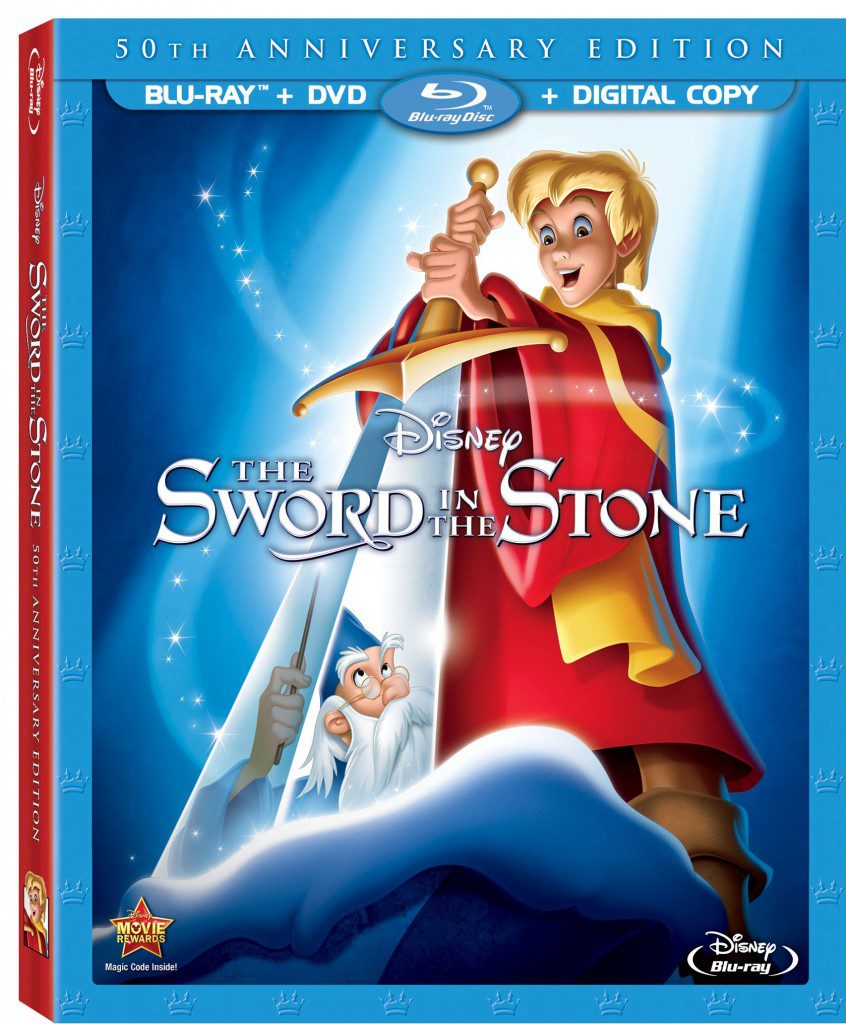 This post is Sponsored by Disney but my opinions are 100% my own!
Disney proudly presents the 50th anniversary edition of a spellbinding and beloved animated classic. Conjure up magical family fun with the humor, adventure and Academy Award®-nominated music (Best Score – Adaptation or Treatment, 1963) of The Sword In The Stone – now on Blu-ray Combo Pack for the first time ever!
This combo pack includes the Blu-ray, DVD and the Digital copy so you can watch it at home or on the go.  It also includes some great extras as well.  There is a never before seen alternate opening – Where Wart Meets Merlin, two bonus shorts – "A Knight for a Day" and "Brave Little Tailor",  Music Magic: The Sherman Brothers and of course the Sing Along mode so you can learn the words to the songs of the movie.  That is always a hit with my girls.
And again I am super impressed with the digital restoration on this movie.  It's amazing what they can do with what they had to work with.  And after my trip to LA last week where I got some behind the scenes looks at the Disney Animation Studios, I can totally see how they really do have the tools to go back and re-do what they did years ago!  Just remember as you watch this, it was first made 50 years ago!!
ABOUT THE SWORD AND THE STONE
Take an amazing journey with a young orphan named "Wart" and the extraordinary wizard Merlin. According to legend, only someone with the purest character and inner strength can pull the enchanted sword from the stone and claim the throne of England. Armed with new-found confidence and the power of friendship, Wart discovers his destiny and learns the best magic is the kind you find inside yourself!
Disclosure: I received a Free product for review. My opinions are 100% mine.