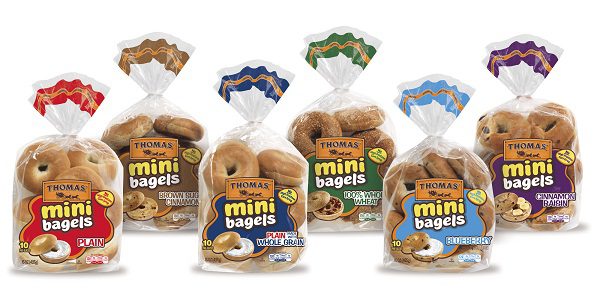 After a long holiday break, it can be tough to get kids back on-track with school schedules. Thomas' Mini Bagels can help make that a little bit easier. These tasty options, available in a wide variety of flavors for every preference, are just the right size for children to start their mornings or get a little boost with an afternoon snack.
For a more nutritious option, try Thomas' 100% Whole Wheat Mini Bagels, baked with 24 grams of whole grains per bagel. Those picky palates can enjoy the benefits of whole grains too, with Thomas' Plain Made with Whole Grains Mini Bagels, baked with 8 grams of whole grains per bagel. Other delicious flavors are Cinnamon Raisin Swirl and Blueberry.
My girls are already big Bagel fans but the regular sized Bagels are too much for them first thing in the morning, plus I like to get a fruit in their breakfast when possible since we aim for so man every day.  With these mini-bagels they get just enough bagel and can also enjoy some banana or apple slices on the side.  It's been the breakfast of choice this past week in my house.
But these are also great for a small egg sandwich as well.  Cook up an egg and then fold it over to put inside the bagel.  All the flavor of a bagel and egg sandwich but not as much bagel!
Their favorite so far is the Cinnamon Raisin with plain cream cheese.  I prefer it with cinnamon cream cheese too!   We also like the Whole Wheat with strawberry jelly and a side of strawberries!  YUM.
Have you tried these mini bagels for a quick breakfast or small snack?  If so what are your favorites??  I'd love to hear!
Disclosure: I received a Free product for review. My opinions are 100% mine.