Nothing feels much better than the refreshing waters of a clean cool swimming pool on a hot summer day. Keeping your pool clear, clean, and ready for swimming will require some work but the key is to not let problems develop, and when they do, treat them immediately. Pool problems generally don't correct themselves and if left untreated will result in an unhealthy pool that is unfit for swimmers.
Tips for Keeping Your Pool Clean and Clear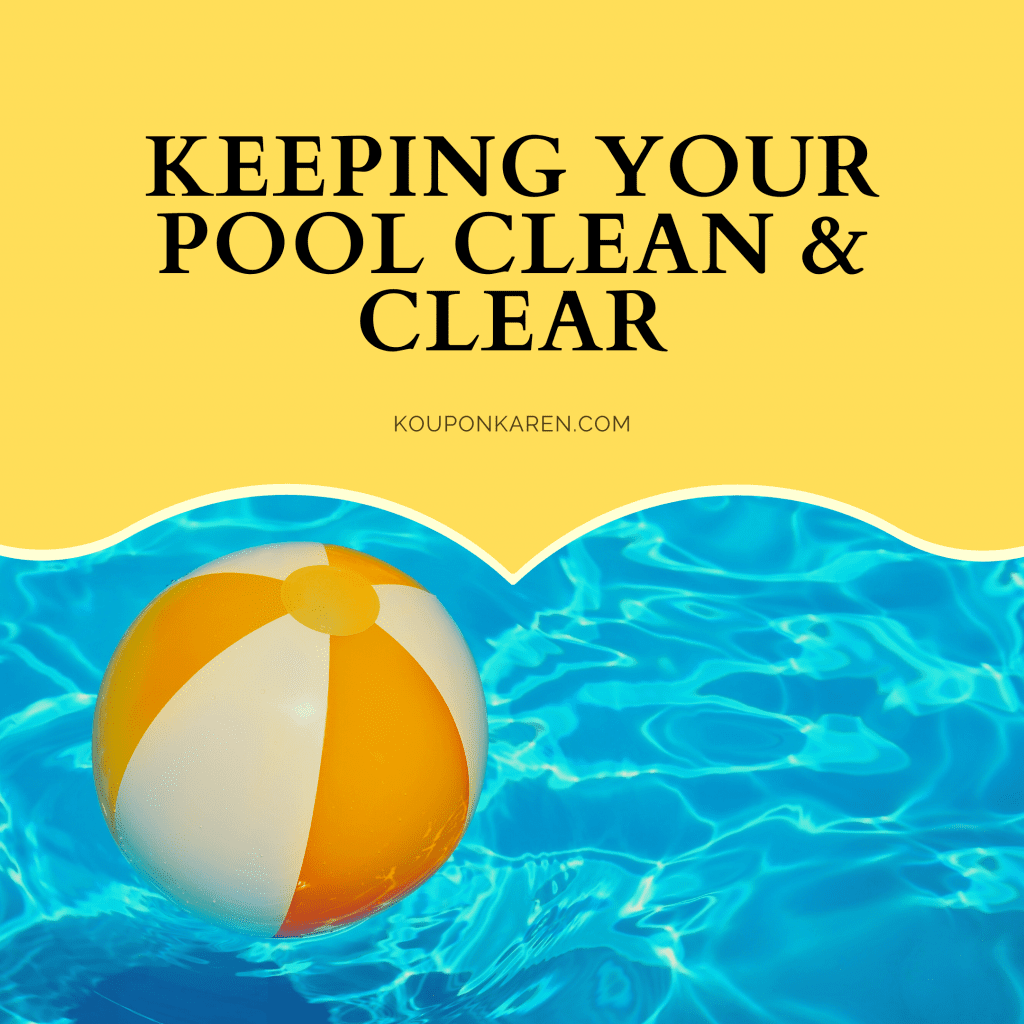 You will need to test then treat your pool to keep the water in balance and algae free. The proper test materials and chemicals will be required but you will also need to know how much water your pool contains. This information will be needed to dispense the proper amount of chemicals.
How Much Water is in Your Swimming Pool
Above ground, pools are far easier to calculate water capacity since they rarely have odd shapes and are a uniform depth. The first set of numbers are for above ground pools with a wall height of 48 inches and 52 inches.
Round Pools: 48″ wall and 52″ Wall
Diameter Gallons Gallons
12 feet – 2,975 – 3,398
15 feet – 4,646 – 5,310
18 feet – 7,646 – 8,602
21 feet – 9,106 – 10,408
24 feet – 11,895 – 13,594
27 feet – 15,054 – 17,205
30 feet – 18,585 – 21,240
Oval Pools: 48″ Wall and 52″ Wall
Size – Gallons – Gallons
12′ x 24′ – 5,948 – 6,797
15′ x 30'– 9,293 – 10,620
16′ x 32'– 10,573 – 12,084
18′ x 33′ – 12,267– 14,019
In-ground pools are slightly more difficult to calculate water capacity due to non-uniform sizes and varying water depth. You will need to measure the overall size of the pool as well as the average depth of the water to determine the total water capacity.
The following list notes gallons by pool size at the following depths: 3.5′ depth, 4.0′ depth, 4.5′ depth, 5.0′ depth:
12′ x 24′ – 7,600 – 8,600 – 9,700 – 10,800
14′ x 28′ – 10,300 – 11,800 – 13,200 – 14,700
15′ x 30′ – 11,800 – 13,500 – 15,200 – 16,900
16′ x 32′ – 13,400 – 15,400 – 17,300 – 19,200
18′ x 36′ – 17,000 – 19,400 – 21,900 – 24,300
19′ x 38′ – 19,000 – 21,700 – 24,400 – 27,100
Testing Your Swimming Pool Water
You will need to purchase a testing kit in order to get the proper chemical balance in your swimming pool. There are a number of different types of test kits and strips you can purchase. Some will check only the chlorine levels, while others will check as many as eight different aspects of your pool water.
It is important to read the instructions and follow them exactly in order to get a proper test of your water. The standard test strip is dipped into the pool then allowed to sit for a period of time, generally 15 to 30 seconds, before being compared to a color chart. By comparing the color on the test strip to the chart provided with the test kit you can determine the chemical levels of your pool.
Proper Chemical Levels For Your Pool
You will be checking a variety of items and each has its own acceptable or recommended range. Different test strips will test different elements, but the primary three areas you will be concerned with are the pH, total alkalinity, and the calcium hardness of your water.
The proper pH level for your pool is within the range of 7.2 to 7.6. If the pH is too high you will need to add sodium bisulfate. To raise the pH in your pool add soda ash.
Total alkalinity should range between 80 and 150 parts per million. To raise the alkalinity of the pool add sodium bicarbonate. To lower the alkalinity add sodium bisulfate.
Calcium hardness is recommended to be kept at a level between 200 and 400 parts per million. If you need to raise the calcium hardness of your pool you may do so by adding carbonate dihydrate or add sodium hexametaphosphate to lower the calcium hardness.
Checking the Chlorine in Your Pool
If your pool is in heavy use you will want to add chlorine as much as 3 or 4 times per week, or every other day. The test strip you used for the other checks should also show the chlorine level in your pool. The chlorine level should be below 3.0 parts per million before anyone swims in the pool.
Be certain to keep the pool pump operating when chlorine is added. It is important that you place the chlorine into the water, and not add water to a container holding chlorine. With all of these chemicals, you should wear eye protection as well as protective gloves. You can easily purchase these online. If you're not sure where to find protective gloves, we've found a place for you. Just click here to view the listing.
Basics of a Clean Pool
In order to help keep your pool clean and clear, you should remove any leaves or debris immediately. If you have a pool cover, this is an excellent way to keep trash and other unwanted items out of your pool. Always keep your filter clean and do not add chemicals to the water via the skimmer as this could damage the pump and filter equipment.
If you can afford it, an automatic cleaner is a great investment and will keep your pool ready for swimming. If you can't afford or don't want an auto scrubber, you will need to use a brush and pole. Be certain the brush is rated for the type of pool you have to avoid damaging the liner or walls of the pool.