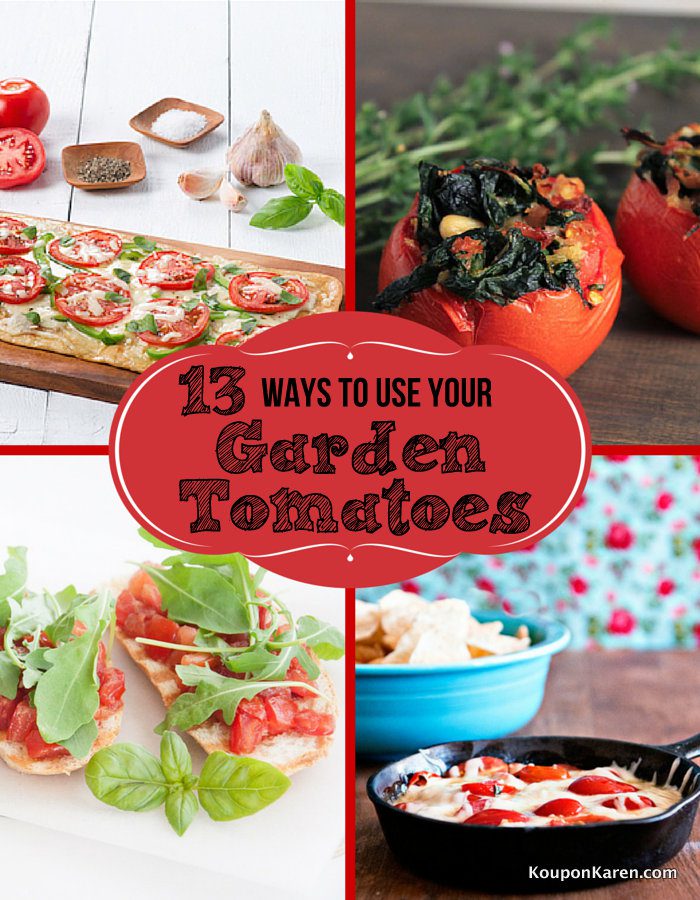 If you have a garden I'm going to guess it's bursting with tomatoes right now.  I know mine is!  I love garden tomatoes, especially cherry and grape tomatoes and we have so many right now.  While I love to share, I hate to give away all the fruits of my labor.
Here are 13 tomato recipes to help you enjoy all the red deliciousness that your garden has given you!
13 Tomato Recipes
Tomato Rosemary Bacon Tart| Flour on My Face – This is a gorgeous, easy, and tasty way to use up your tomatoes!
Copycat Panera Bread Tomato Bisque Soup | Mom Foodie – Tomato soup is my husband's favorite meal in the winter or on colder days.  He always eats it with grilled cheese to dunk it in.
Tomato Basil Queso Cheese Dip | Dine and Dish – I love dips! My friend and I usually settle for appetizers at restaurants because there are so many great dips to choose from. This one is on the top of my list as far as great taste goes!
Tomato Bruschetta | Elephantastic Vegan – This is a light and healthy snack that is also vegan friendly!
Swiss Chard Stuffed Tomatoes | Rooting the Sun – Stuffing a tomato is a great way to make a meal out of all those extra tomatoes in your garden!  I love this recipe idea and will definitely be trying it out!
Tomato Mango Flatbread | Recipe Righter – Flatbread is great alone much less with a great tomato and mango mixture on it! I love the slight sweet hint with this!
Tomato Pie | Tastes Better from Scratch – Now this is a neat twist on pie and pizza mixed in to one with a healthy cap on it!
Italian Tomato Sauce | A Family Feast – Homemade things always seem to taste better than store bought. Try using this homemade tomato sauce recipe with your next meal!
Creamy Spinach Tomato Tortellini | Cooking Classy – If you're looking for a main dish involving tomatoes, look no further! Tomatoes go great with pasta!
Homemade Ketchup | Cupcakes and Kale Chips – This is a much healthier option to the store bought ketchup! Nix those preservatives and unwanted chemicals and make your own ketchup!
Tomato Chips | Southern Plate – If you're looking for a crispy snack such as chips but don't want the unhealthy aspect of it, whip up some of these!
Parmesan Baked Tomatoes | My Kitchen Affair – If you struggle with getting fruits and veggies in your diet, this is a great way to convince yourself that you're not eating healthy when you actually are!
Killer Marinate Tomatoes | Tasty Kitchen – I never thought about marinating tomatoes but this looks so good! Try some of these in your next dish!
Which one of these Tomato Recipes will you try first?