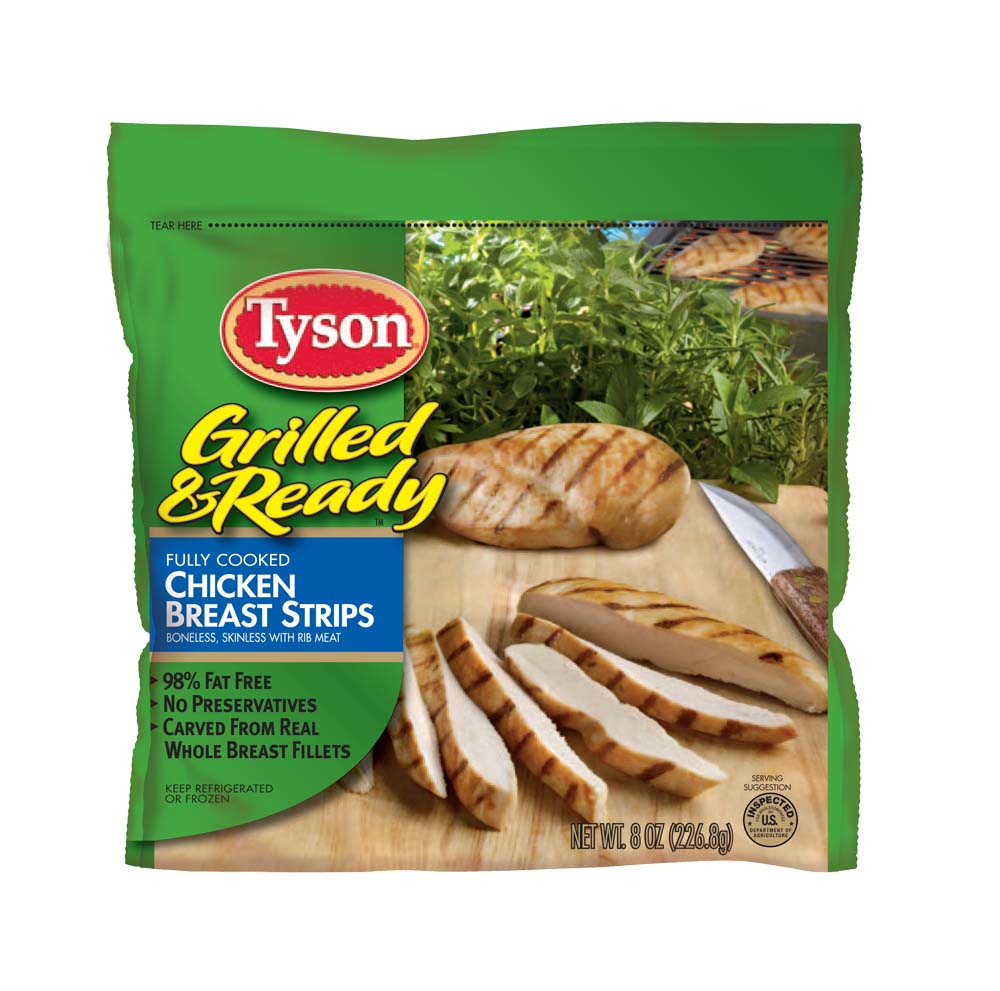 Product Name: Tyson® Grilled and Ready™ Frozen or Refrigerated Chicken Strips
Product Information: Tyson® Grilled & Ready™ Frozen and Refrigerated Chicken Breast Strips are fully-cooked, lean, boneless, skinless, recipe-ready chicken that help dramatically cut down on meal preparation time, giving families a jump start on meals. Available in the grocers' freezer and refrigerated sections, Tyson® Grilled & Ready™ Frozen Chicken Breast Fillets and Frozen or Refrigerated Chicken Strips are 98% fat free and contain no preservatives. The perfect protein for any entree, salad or sandwich, these varieties are a delicious and smart way to make eating right part of your routine.
Purchase Information: Available at grocery stores nationwide in freezer and refrigerated sections.
Purchase Price: Tyson® Grilled and Ready™ Frozen Chicken Strips: $9.99 and Tyson® Grilled and Ready™ Refrigerated Chicken Strips: $3.99
My Thoughts: I love chicken and so does my family and we have it a lot for dinner.  So I was very excited when I was asked if I wanted to try the Tyson Grilled and Ready refrigerated Chicken Strips.  I just started Weight Watchers and trying very hard to have balanced meals, even for lunch.  So I knew these would be perfect!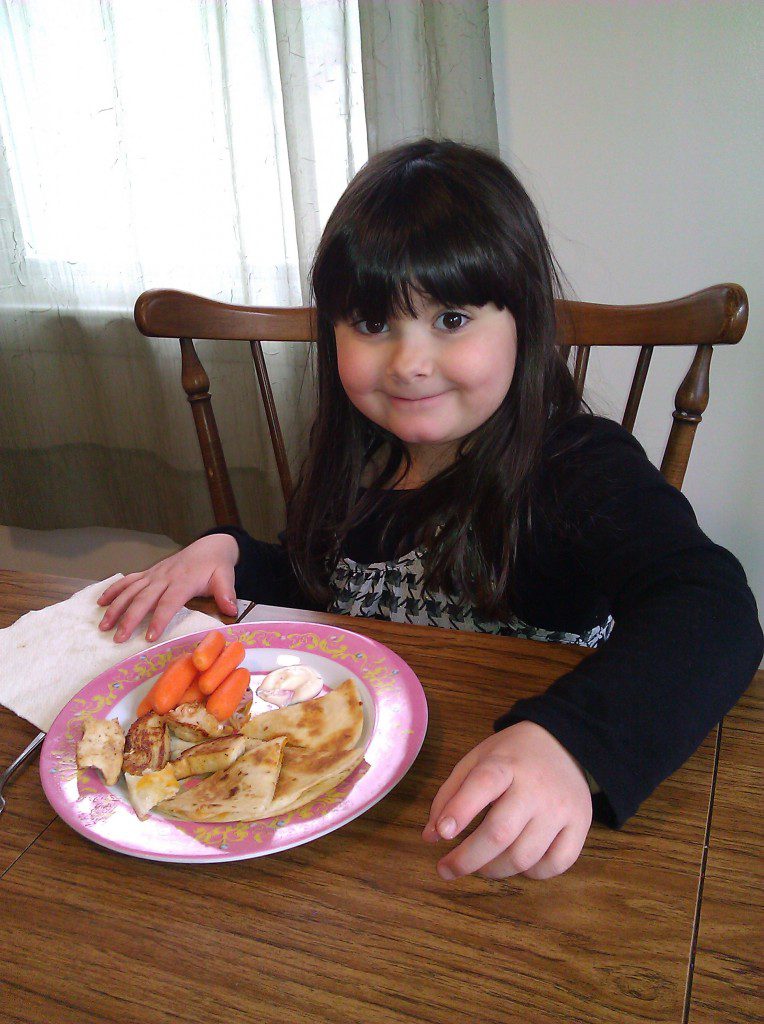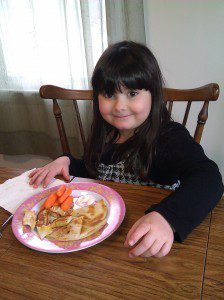 The first time I had them was with a salad.  I love grilled chicken on top of salad and this was the easiest way to do it!  One serving size is about 7 pieces and only a few points on weight watchers so it was a perfect meal!   The second time I made them was for my daughter for lunch.  She loves cheese quesadillas so I made that and then cooked up some of the chicken strips along with some carrots and she LOVED it!   The third time I made them was in a stir fry.  I've been eating more and more veggies and the chicken strips were the perfect addition to them.  Again I had about 7 pieces which was the perfect serving size for me.
So how easy are they to cook with??  A-M-A-Z-I-N-G-L-Y easy!   Just grab a little saute pan, put some frozen chicken in the pan and turn it on low-med.  Within minutes it is warmed up and ready to eat.  Seriously it was that easy.
So how good are they??  A-M-A-Z-I-N-G-L-Y yummy!!  I was very impressed with the flavor.  I honestly just expected them to taste like chicken strips.  I didn't expect them to have so much flavor.  And they were super moist.  I was extremely impressed with the quality of these chicken strips and I will buy them over and over again!
What we LOVED about Tyson Grilled and Ready Frozen Chicken Strips:
I was able to get a lot of different meals out of the bag just for myself.  There's a LOT of chicken in there!
The chicken truly is juicy and full of flavor.
How EASY they are to heat up.
How versitale they are.
My daughter LOVED them so that's always a plus for me!
The price.  $10 for a bag of pre-cooked, good for me chicken that will help me stay on my diet because they are quick and easy to make is a good deal for me.  Plus they go on sale too!
They are fully cooked, 98% fat free, have no preservatives and GOOD For my family.
What we Didn't Like about Tyson Grilled and Ready Frozen Chicken Strips:
I'm not really sure there is anything we didn't like about them!!
Check out the Tyson website for some great recipes ideas to use the Grilled and Ready chicken.
WIN IT
(3) Koupon Karen reader's will win a coupon for a FREE Tyson® Grilled and Ready™ Frozen or Refrigerated Chicken Strips!!
Entry is simple! You just need to answer the question below by leaving a comment on this site! You can even gain up to 4 bonus entries for doing each additional item listed (just make sure that you leave one entry for each one — up to a total of 5 comments). As a reminder, comments left on Facebook, Twitter or other posts will not be included.
REQUIRED ENTRY
Leave me a comment telling me how you would use Tyson Grilled and Ready Chicken into a meal for yourself or your family!  Can't wait to hear your ideas!!
BONUS ENTRIES:
1. Follow @KouponKaren on twitter and tweet the following "I entered to #win a Tyson Grilled & Ready Chicken @KouponKaren You can too! https://wp.me/pMKCI-5Z8 #giveaway "
2. "Like" Koupon Karen on Facebook –> I have a new page so if you were previously my "friend on facebook" please like this page as well
3.  Comment on any other post on my blog (giveaway posts don't count) then come back here and let me know what post you commented on.
4. Sign up to receive Koupon Karen daily emails or add me to your favorite reader.
Details: This giveaway is open to US Residents and will remain open until April 10th at 11:59 p.m. EST . Any comments left after this time will not be counted. The winner will be selected randomly and will be notified via email and will have 48 hours to claim their prize.
Disclosure: I received coupons for FREE Tyson Grilled & Ready Chicken for my review. This did not influence my post and as always, my words are my own.