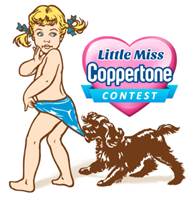 An icon since 1953, Little Miss Coppertone has been a symbol of family sun protection for decades. With the importance of sun safety more vital than ever, Coppertone's search for the next little girl represents the brand's ongoing commitment to keeping America safe while embracing the sun.
A panel of judges, including celebrity mom Alison Sweeney, selected the top ten finalists.
From July 13to 26, the ten finalists will be featured on the Coppertone Facebook page where America will have the opportunity to vote for the girl they believe best reflects Little Miss Coppertone's wholesome, outgoing and energetic spirit.
The winner will be selected at the end of July and will be awarded a seven-day, six-night dream family vacation and will be featured in a 2013 print ad.
If you'd like you can vote here for your favorite.
Here are a few sunscreen tips from Dr. Elizabeth Hale. She's an associate professor of dermatology at the NYU School of Medicine.
Reapplication is key. Be sure to reapply sunscreen every two hours or after swimming, toweling off, or sweating. When on-the-go, continuous spray formulas make reapplication much easier.
Watch out for sensitive areas. The most sun sensitive areas are often the ones commonly overlooked when applying sunscreen—the scalp, ears, backs of hands, nose and feet.
Keep babies under six months out of the sun. For the rest of the family, it's best to seek shade during peak UV hours.
When going outside, bring sun protection for the whole family. Include sunscreen, sunglasses, brimmed hats and UV protective clothing, especially for children.