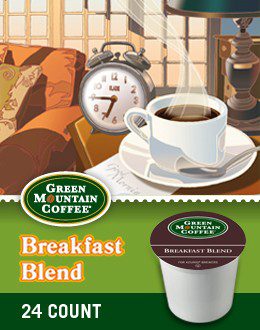 Wacky Wednesday Sale at Cross Country Cafe – Wolfgang Puck,  Donut Shop, Green Mountain, Marley Coffee

This week for the Cross Country Cafe Wacky Wednesday Sale you can get the following coffee on sale –
Wolfgang Puck Creme Caramel Keurig Kcup coffee…$10.99 per box of 24!
Green Mountain Coffee Breakfast Blend Kcups… $10.99 per box of 24!
Donut Shop Classics Blueberry Cobbler…$4.25 per box of 15!
Donut Shop Classics Double Dipped Chocolate 1 lb ground coffee…$7.50 per 1lb bag!
Marley Coffee Lions Blend 2lb whole bean…$20.00 per bag!
Check out the sale… HERE.  And when you purchase 5 boxes, shipping is FREE!  So grab a friend and place an order!
This sale is only good today, Wednesday 1/16/12 so SHOP NOW!