This shop has been compensated by Collective Bias, Inc. and Walmart Family Mobile. All opinions are mine alone. #Save4Summer #CollectiveBias
It's the first of July which means the 4th of July is only a few days away.   We love to spend the day swimming barbecuing and having a fun time with our friends every year on the 4th of July.   Last year it rained but this year it looks like we will have a perfect day!  The fact that it lands on the weekend is a huge plus.
Of course entertaining means we'll be spending money!  But that's okay because I've been able to save money with Walmart Family Mobile this past month.  WFM has some of the Lowest Priced Unlimited Plans which is exactly what I need.  I always have my phone with me and I use it through out the day because when you work for yourself, you don't really get time off.
Walmart Family Mobile
When I sat down to pay our bills a few months ago, I thought about ways I could save on our monthly bills.  While walking through Walmart shortly after that,  I saw the signs for Walmart Family Mobile and decided to take a look at it.  I found that I could get the same T-Mobile service for a lot less.  Plus the phone was very affordable, especially for a family with more than one phone.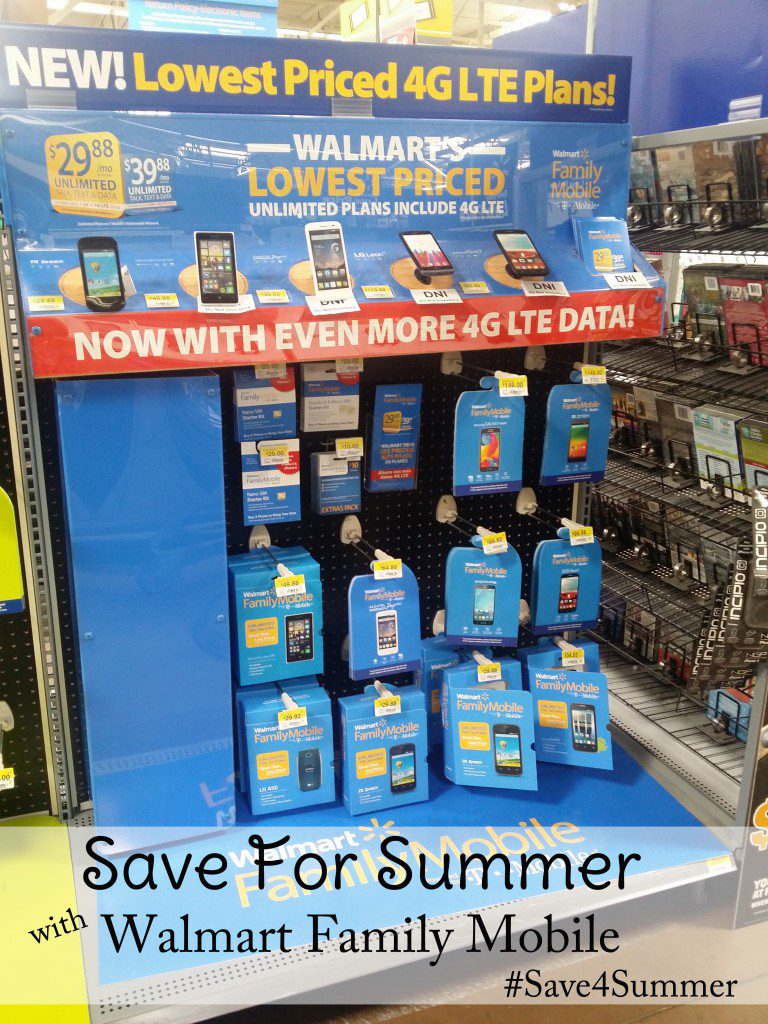 I picked up the LG Leon phone at Walmart and the $25.00 starter kit since I didn't have a Walmart Family Mobile plan already.  You need a starter kit for each phone you purchase.  The starter kit includes the SIM card.
The LG Leon phone has everything I need and it costs a lot less than what I was paying!  For only $29.88/month (for the first line), you get an Unlimited Talk, Text & Data service plan which includes up to 1G of 4G LTE data.   My last plan cost more than 3x's that!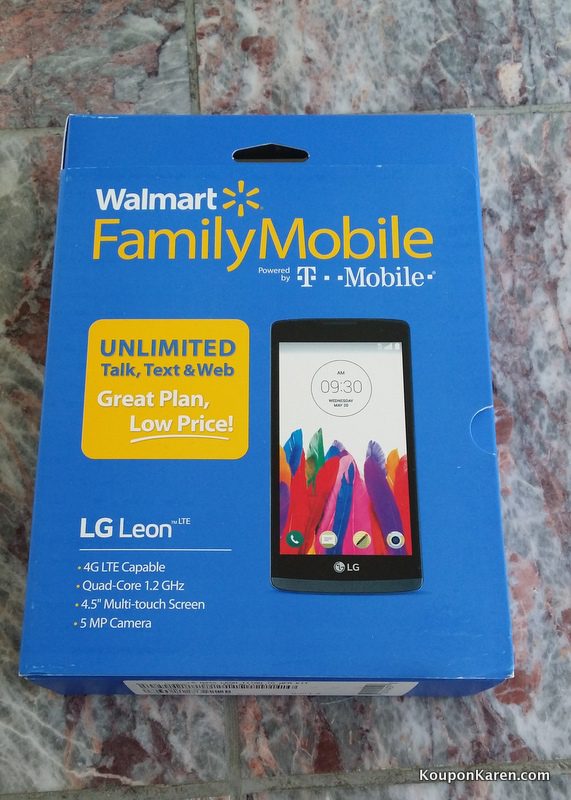 Walmart Family Mobile isn't a prepaid mobile service, it's a post paid meaning you pay at the end of the month for the service.  There is no credit check and no credit card needed.   I am not only saving money, but I saved a lot of time when I set up the phone.  You have the choice of setting it up in the store, over the phone or online.  I choose to set it up online and it took me 5 minutes.  I was even able to use my current cell phone number, so no new number was needed.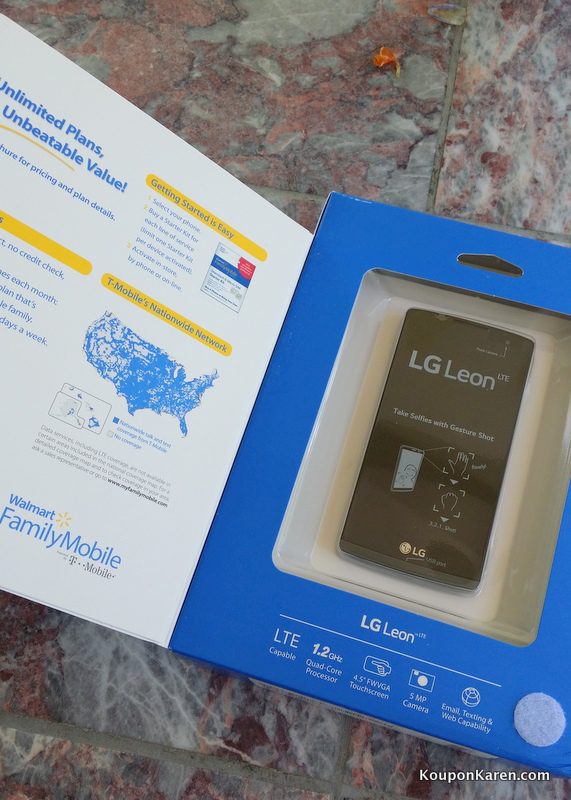 The LG Leon phone is great.  It's the perfect size and I was able to add all my favorite apps.
4G LTE Cabable
1.2 GHz Quad-Core Processor
4.5″ Multi-Touch Screen
5 MP Camera
Email, Texting & Web Capability
Inside the box you'll find a wall charger with a micro USB, the battery, product warranty information and the phone.

I love the size of the LG Leon phone.  It's the perfect size to fit in my hand, to slide into my back pocket and it fits perfectly inside one of the side pockets of my purse.  It's not too small for texting or for taking pictures.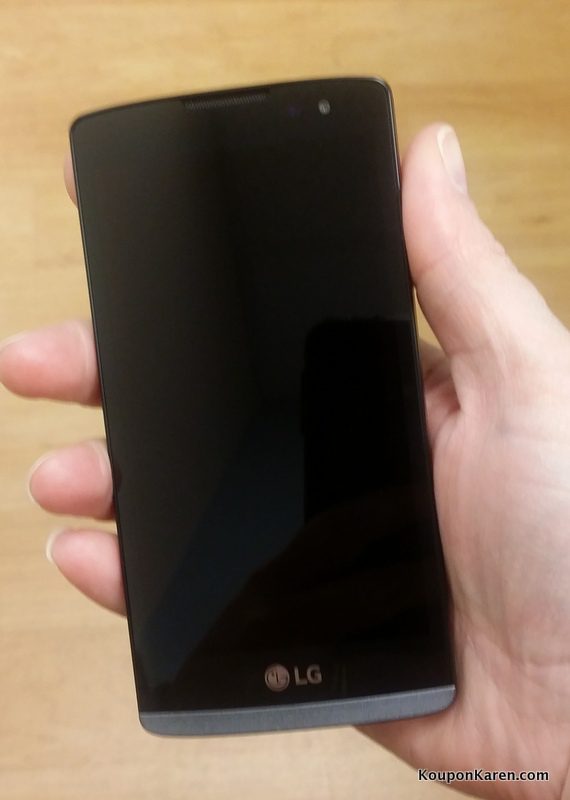 I'm so excited about this phone and all the use we'll get out of it this summer.  But I'm especially happy about all the money we are going to save with this phone since I'll only be paying $29.88 a month for unlimited text, talk and data.  There are no hidden fees, no overage changes and nothing else to worry about with the 4G LTE Service.
We always end our 4th of July with some sparklers. The girls LOVE them! But with the rain last year, there were no sparklers on the 4th. But we picked some up the other day and are ready to go. These are just a few of the memories we love to make.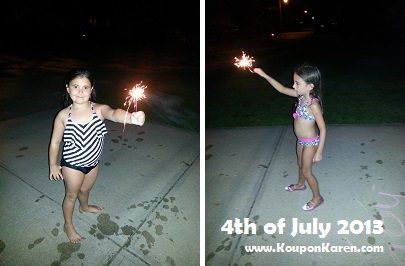 I love having options like Walmart Family Mobile where my family can save money on things we feel are a necessity.  Before I know it, we'll be a family of 4 mobile phones so plans like this will make it affordable for my family.
With all the extra money I'm saving with Walmart Family Mobile, I can put it towards our 4th of July party and have a great time with my family, make some memories and just enjoy the day.
What are your plans for the 4th of July?
Disclaimer: All prices for phones and plans included in this post are accurate as of the date of posting; however, these prices are subject to change. Please refer to http://cbi.as/ax84 or your local Walmart for current pricing.