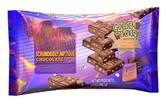 Walmart has the Wonka Exceptionals Chocolates priced at $1.50 for a 9 oz bag. You can get them FREE with the $1.50 coupon in the 9/15 Red Plum insert. AND they may even ring up for only $1.00 which would make this a $.50 money maker! So make sure you have something to fill the overage in case the ring up for only $1.00.
Walmart prices can vary so you may find them priced differently at your local Walmart.
thanks Saving with Amy for this cool freebie!