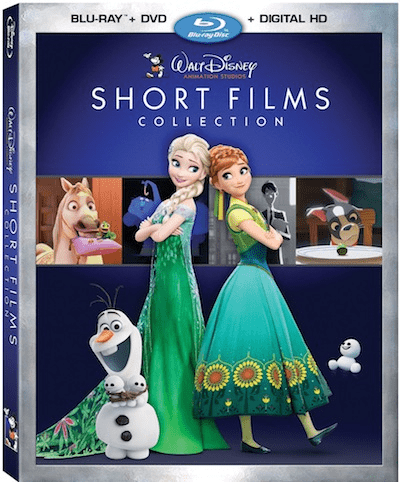 One thing my girls have come to love is the Shorts we see in theaters before the movies.   Their favorites right now are (of course) Disney's Frozen Fever and Feast.  We have a Boston Terrier so Feast was a huge hit with my girls!
Walt Disney Short Films Collection
Good news for those of you that are also fans of these awesome Shorts because on August 18, 2015 you can bring home the Walt Disney Short Films Collection, an extraordinary new collection of award-winning and beloved short films featuring Disney's Frozen Fever, starring Anna, Elsa, Olaf, Sven and Kristoff, and the Oscar®-nominated Lorenzo.   Enjoy this must-own collection with all-new extras including an inside look at the Disney Animation shorts, featuring introductions and interviews with the acclaimed filmmakers themselves.
Here is the trailer for the Walt Disney Short Films Collection:
Below is a slide show of the shorts included in this collection:
FROZEN FEVER (2015)
U.S. Release Date:      March 13, 2015, in front of Live-Action "Cinderella"
Directors:            Chris Buck, Jennifer Lee
Producers:            Peter Del Vecho, Aimee Scribner

In "Frozen Fever," it's Anna's birthday and Elsa and Kristoff are determined to give her the best celebration ever, but when Elsa catches a cold, her powers may put more than just the party at risk.

FEAST (2014)
U.S. Release Date:      November 7, 2014, in front of "Big Hero 6"
Director:            Patrick Osborne
Producer:            Kristina Reed

"Feast" is the story of one man's love life as seen through the eyes of his best friend and dog, Winston, and revealed bite by bite through the meals they share.

GET A HORSE! (2013)
U.S. Release Date:        November 27, 2013, in front of "Frozen"
Director:            Lauren MacMullan
Producer:            Dorothy McKim

Featuring Walt Disney himself as the voice of Mickey Mouse, "Get A Horse!" follows Mickey, his favorite gal pal Minnie Mouse (voice of Marcellite Garner) and their friends Horace Horsecollar and Clarabelle Cow as they delight in a musical hay wagon ride—until Peg-Leg Pete (voice of Billy Bletcher) shows up and tries to run them off the road. With both classic black-and-white, hand-drawn animation and up-to-the-minute technical wizardry (often in the same frame), this groundbreaking short takes a sharp turn when Mickey finds himself separated from Minnie and must use every trick up his sleeve to find his way back to her.
These are just a few of the shorts included.