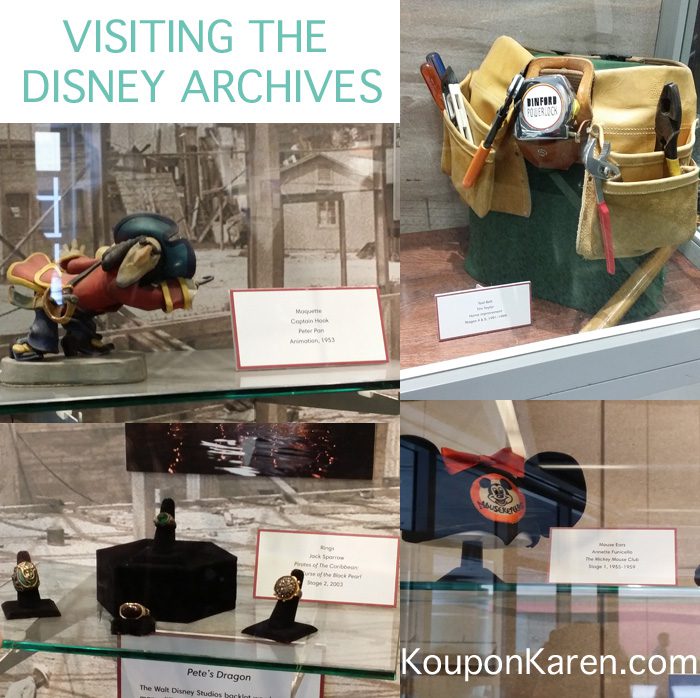 Disclosure: I received an all expense paid trip to Los Angeles California for the #TomorrowlandEvent. All opinions are my own and were not swayed by any outside sources!
While in LA earlier this month for the TOMORROWLAND press junket, we had an opportunity to visit the Disney Archives and see Walt's Vision for TOMORROWLAND along with all sorts of memorabilia from the parks, movies, TV shows.   I love learning about Disney history and if you read my blog often, then you probably know that my family and I are huge Disney junkies!  So this tour of the Disney Archives was like a dream come true for me and my daughter loved looking at all the pictures from my trip!
Disney Archives – A Peek at Walt's Vision for TOMORROWLAND
Kevin Kern, who works at the Disney Archives gave us a very in-depth tour of items they have on display.  Kevin Kern is very extremely knowledgeable on Disney and he pretty much holds my oldest daughter's dream job!  She loves to learn everything there is to know about Disney history along with everything about Walt Disney himself.  She's already done one school project on Walt!  Oh speaking of Walt Disney, I had my picture taken with him while at the Disney Archives…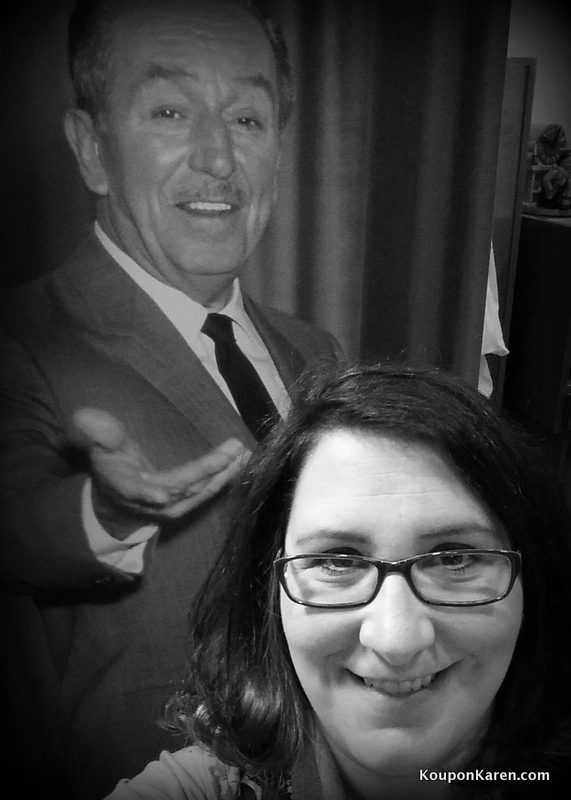 (He's much taller than me!)
So what did I see in the Disney Archives and what did I learn about Walt's Vision for TOMORROWLAND?   There was so much to see and I took a lot of pictures to share these amazing pieces of memorabilia and artifacts.  Plus Disney now owns ABC so we also saw pieces from ABS shows!  For instance, in the picture at the top of this post you'll see Tim the Toolman Taylor's tool belt from the ABC show Home Improvements.  I watched this all the time and love Tim Allen.  The tool belt on display was used in the show!
They also have on display Mouse Ears from The Mickey Mouse Club that Annette Funicello wore from 1955 – 1959.   While the mouse ears have changed since over the years, they haven't changed that much.   We also saw rings that Jack Sparrow wore in the movie Pirates of The Caribbean Curse of the Black Pearl in 2003.

Above you'll see Roy O. Disney's briefcase along with some office supplies that were actually from Walt's office!  It's so cool to see items that both Roy and Walt Disney used back in the day!  If they only knew then how much we'd treasure these items now!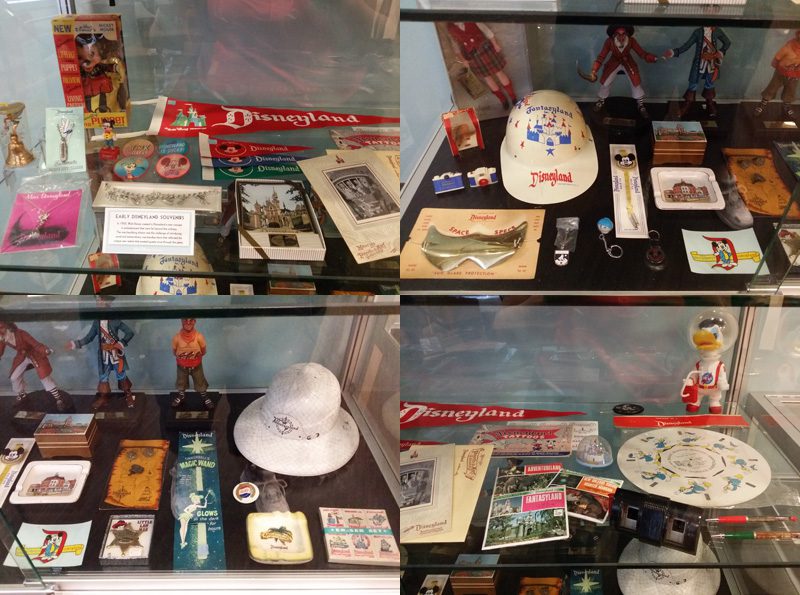 Since TOMORROWLAND is coming to theaters this week, they have a lot of Disneyland items on display in the Disney Archives.  In the picture above is all sorts of early Disneyland Memorabilia.  It's so cool that they have these items.  We asked Kevin if people contact them when they find old artifacts that they think Disney would like.  He said it does happen from time to time, but they never purchase the items.   They only take donated pieces.  If someone wants to sell it rather than donate it they don't buy it except on the rare occasion that it's an item they need.  How cool would it be to go through your grandparents home and find something that was genuine and from the early days of Disneyland!  What a great treasure to find!
Speaking of great treasures of the early days of Disneyland Kevin Kern showed us some items from before Disneyland opened and from opening day!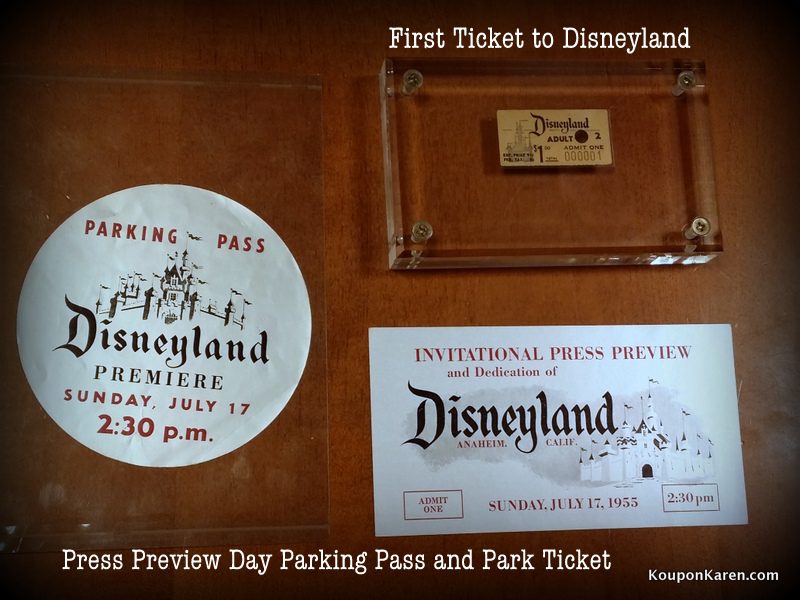 In the picture above you'll see an original ticket from the Press Preview Day on July 17, 1955 along with a parking ticket.  The parking ticket had glue on it that they stuck to the window of your car.  Someone kept it and gave it to the archives.  What gem to have on display along with the ticket!   And in the top right corner that smaller ticket was the first ticket to get into Disneyland and it belonged to Roy O. Disney.  That ticket cost $1.00!   It cost a lot more now to get into Disneyland but Kevin explained to us that this was just a ticket to get into the park.  Once inside you had to pay for everything you did.  It wasn't until the 1980's when they started to change one price at admission for everything.
Walt's Vision for TOMORROWLAND
The idea for the movie TOMORROWLAND came from Walt's Vision for TOMORROWLAND many years ago.   In order to put the movie together, they had to go through a lot of the Disney Archives to be able to fully understand Walt's Vision for TOMORROWLAND and to put it on-screen as best as they could.  So they really dug deep into the Disney Archives while writing the movie.
The preview of TOMORROWLAND that you can see in Tomorrowland at Disneyland and Disney World starts off at the World's Fair.   We saw a lot of memorabilia from the World's Fair in 1964-1965 including the poster!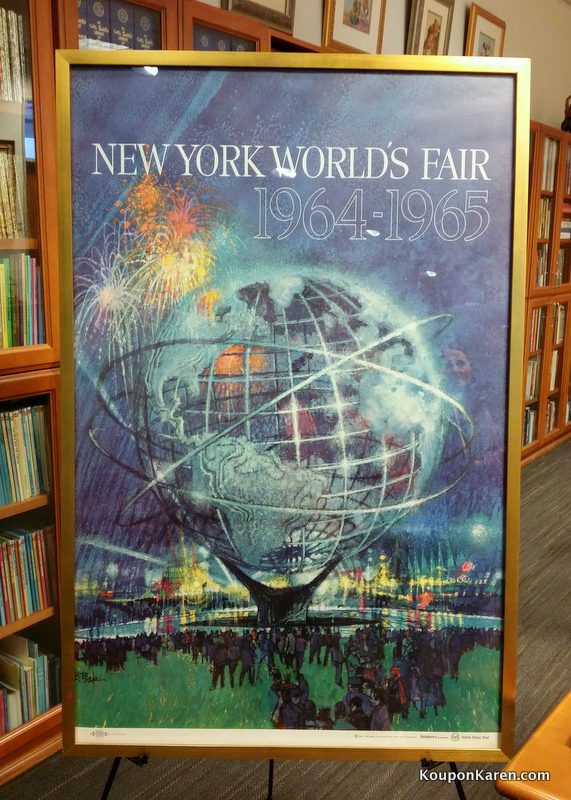 As a matter of fact, I learned that day that It's a Small World was original to the World's Fair!  And on display was one of the dolls from the original ride.
It's a Small World is one of those rides that you have to go on.  We ride it at least once every single time we go to Disney World and of course we rode it on our trip to Disneyland as well.  It's like a Rite of Passage and a must see ride.   The song is catchy (I'm sure that was the plan) and you do end up singing it all day but really it's not that bad of a message so why not!
Below you can see a souvenir guide for It's A Small world along with various things from the World's Fair including a ticket!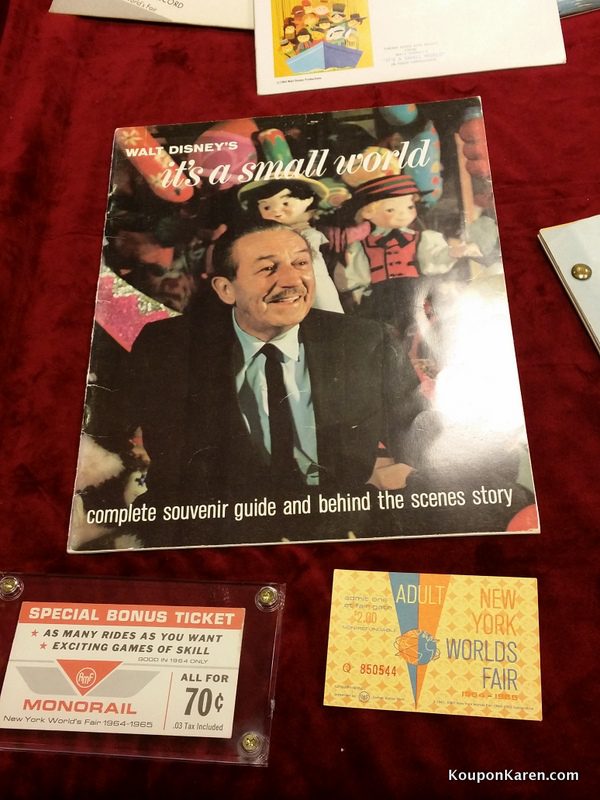 In the picture above you'll see a ticket to ride the Monorail all day for just $0.70 which included $0.03 tax!  It's a pretty old ticket so they have that sealed in glass.  They also showed us an adult ticket for the New York World's Fair which cost only $2.00!  Prices sure have gone up!
Lots of cool things to see including a coloring book from the Worlds Fair, some books, souvenirs, flyers, a record from It's A Small World and so much more!  It truly was a dream to walk through this room and see all these items!
Along with all these interesting artifacts, memorabilia and props, we also had the chance to see one of Oscar's that Walt won.  But not only did we get to see it,  we even had the chance to hold it!
And the Oscar goes to…..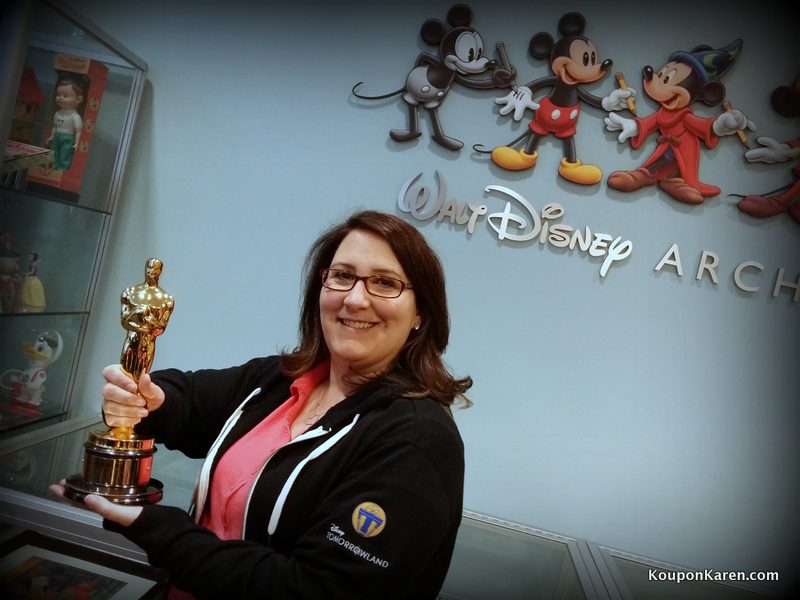 You may have heard that it's heavy but let me tell you it is HEAVY!!  I was surprised how heavy which is why I have my hand under it as well.  Dropping that would have been a disaster!  It was cool to hold and see and even dream it was mine, even for just a moment.
The time spent in the Disney Archives learning about Walt's Vision for TOMORROWLAND was an absolute amazing dream and I'm so grateful to have been able to browse these items and learn more about Disney from the beginning.  I wish we had more time to see more but there was so much to do and so little time.  I also wish I could take my family to see these items someday as I know they'd love it too!
Guess what?  You can see how Walt's Vision for TOMORROWLAND unfolds this weekend!
TOMORROWLAND opens this Friday everywhere!  It's rated PG so plan on taking the entire family to see it!