Home improvement can come at the cost of a lot of time, energy, and money. However, if you're willing to put in the effort, you can make your home beautiful and more efficient. Improving both your home's curb appeal and its energy efficiency are key goals that are within reach with a few smart changes here and there. There is no one-size-fits-all solution for achieving this perfect balance; rather, it involves combining different solutions in order to get the most bang for your buck! In this blog post, we'll look at some practical ways to increase your home's curb appeal while also reducing its environmental footprint. From low-maintenance landscaping ideas to solar-powered components – let's explore how taking an environmentally conscious approach can add value (and beauty!) to your property.
Upgrade Your Exterior Doors
Upgrading your home's exterior doors is an easy way to contribute to a better overall aesthetic while also increasing its energy efficiency. Investing in new doors can have excellent returns in the long run, as it often leads to lower monthly energy bills. Choosing ones that suit your style adds fantastic curb appeal, and for those living in extreme weather climates, make sure to select ones with reliable insulation so you can reduce air conditioning and heating costs. Durable and attractive materials such as fiberglass or steel can help protect against weather elements, theft, and unwanted pests– all of which can be key factors when considering upgrading your exterior doors.
Install New Windows
Another way to improve both your home's curb appeal and energy efficiency is by installing new windows. New windows can not only give your home a refreshed, modern look, but also better insulate it against cold air or high temperatures. They will keep the temperature at a comfortable level while providing savings on energy costs each month. Additionally, modern windows can also increase the natural lighting in your home! So if you are looking for an easy and very efficient way to update your home and make it "greener", then installing new windows should be one of your top projects.
Update Your Outdoor Lighting
Want to give your home's exterior an eye-catching, energy efficient update? Try updating your outdoor lighting fixtures. With modern, LED lighting, you can add instant curb appeal while also lowering your energy bills. Since LED lights are more efficient than traditional bulbs, they save energy and money by using less electricity. And when you upgrade old, out of style lighting fixtures with more current designs, it creates a completely updated look for your home. It may be time for a change outdoors – why not start with a stylish new outdoor lighting scheme today?
Invest in a Good Landscaping Design
When it comes to improving the curb appeal of your home while also minimizing energy consumption, investing in a low-maintenance landscaping design is a great place to start. With low-maintenance landscaping, one has the advantage of quickly creating an attractive yard with plants that require low water and, thus, fewer resources. Trees, shrubs, and other flora can be strategically presented to provide interesting designs that are visually appealing while at the same time blocking the sun's heat and light, thus reducing the need for air conditioning in those warm summer months. Strategically placed shrubs and greenery can even shelter windows from strong winter winds which help reduce drafts and keep your home at an optimum temperature without unnecessary strain on your energy bill.
Install Solar Roof
Installing solar roof panels on your home is a great way to increase energy efficiency, save money on energy bills, and take advantage of renewable energy. It can also provide fabulous curb appeal even from the street, as solar shingles now come in various colors and textures that blend beautifully into traditional roofs. Not only are they aesthetically pleasing, but with the proper installation, they can last through all types of weather conditions while still harnessing the maximum amount of energy. There may be incentives where you live to install solar roof panels, so make sure to do some research or talk to an accredited professional for guidance before embarking on the project.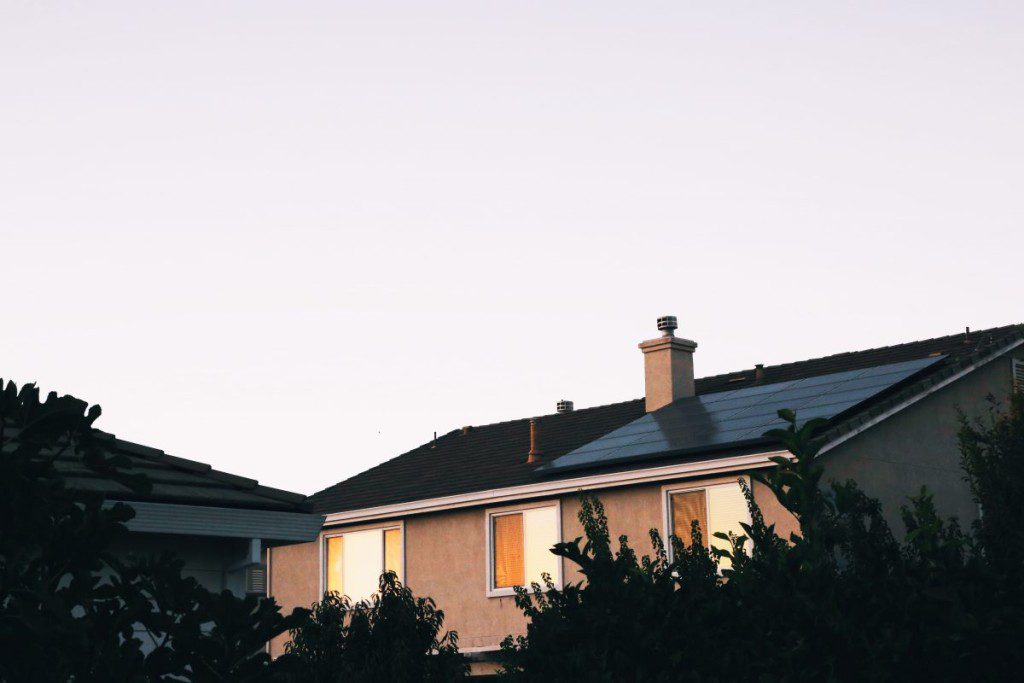 By taking the time to analyze and upgrade your home's exterior, you can make it look fresh and modern while also saving money on energy bills. From installing new windows or updating outdoor lighting fixtures to investing in a good landscaping design or even solar roof panels, there are many ways to improve both curb appeal and energy efficiency at the same time. Taking these steps will help create an aesthetically pleasing home that is not only comfortable but cost-effective as well! With the right strategy and resources, you can transform your house into a beautiful yet economical haven for years to come.