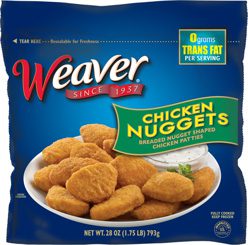 Product Name: Weaver Chicken
Product Information:  Weaver Chicken  must be run by a women because they get how busy we are as moms (and dads too!)  They want to help us find more time for family in our days. To do so, they have asked professional chef, author and mother-of-two, Maureen Petrosky to share some of her best advice for creating indoor family fun, especially with busy schedules.  But by adding a little creativity to your day – from play time to meal prep – you'll find that reconnecting won't have to be another task on your list, it'll be part of your daily routine.
Here are some of her ideas:
Spice it up. Revisit your pantry or spice drawer to avoid extra trips to the grocery store. With simple ingredients such as rosemary, garlic, oregano or cilantro, you can quickly transform your family's favorite meals into an array of dinner options. Get everyone involved in meal prep and use this time as an opportunity to catch up with one another.
Dine together. Prepare a stress- free dinner with items kids love such as Weaver Chicken Nuggets, served up alongside a big salad and some fresh bread from the baker. Kids prefer Weaver Chicken Nuggets because they're crispy and delicious on the outside and they have juicy, tender chicken on the inside. Moms can feel good serving them to her kids because they have zero grams trans fat per serving and are high in protein.
Go camping indoors. The rule: no lights, phones or computers from dusk to dawn. Drape the couch and chairs with sheets for a makeshift tent. Put your sleeping bags on the floor, grab your flashlights, and share your best ghost stories.
Start a dance party. A great way to have some fun with your family is to get everyone dancing. Turn off the TV and turn on some good tunes. Make homemade trophies and prizes to give to the winners. Create special categories for best moves, best spins, most creative, most enthusiastic dancer.
Turn chore time into an a-maze-ing race. In ten minutes, you can create an indoor maze, complete with clues to take your family on an at-home adventure.Incorporate simple chores like putting away laundry, cleaning under the bed, or setting the table. The final reward can be their favorite dinner or an extra bedtime story.
My Thoughts: The holidays are over and even though it's calmed down a bit, we still have some very busy weeks and mornings. My oldest takes a lunch to school a few times a week and many times I find we are out of bread for sandwiches, as I go to make her lunch. That's when I turn to the freezer to find something I can toss into her lunch box and sometimes frozen chicken nuggets it is! She's pretty particular on which ones she likes so I was hesitant to try Weaver, just in case she didn't like them. So bBefore I tossed them into her lunch box, I made them for dinner one night and they were a huge hit. The funny thing was they didn't even notice they were different than their regular nuggets, they enjoyed them just the same.
And I enjoyed the price point. These were under $2 for a bag at Walmart. You can't go wrong with that! They can even go right into the microwave when you are pressed for time. When I add them to her lunch, I heat them up a bit and then put them in a container and she loves to eat them cold with either ranch dressing or ketchup, which ever we have handy.
Weaver chicken is now a regular on my shopping list!

(1) Koupon Karen reader will a months worth of Weaver Chicken – 4 FREE product coupons.

To enter the giveaway, use the rafflecopter widget below. You can now sign in with Facebook and it will remember you each time you enter another rafflecopter giveaway. Of course Facebook is in no way associated with this giveaway, the people of rafflecopter just want to make it easier for you to enter giveaways now. If you aren't sure how to use the Rafflecopter Widget, check out my friend Nicole's post about using the widget to enter giveaway's. She did an awesome job of explaining it!
As a reminder, comments left on Facebook or Twitter will not be included.
Disclosure: I received the same prize as the winner for review. My opinions are 100% mine.