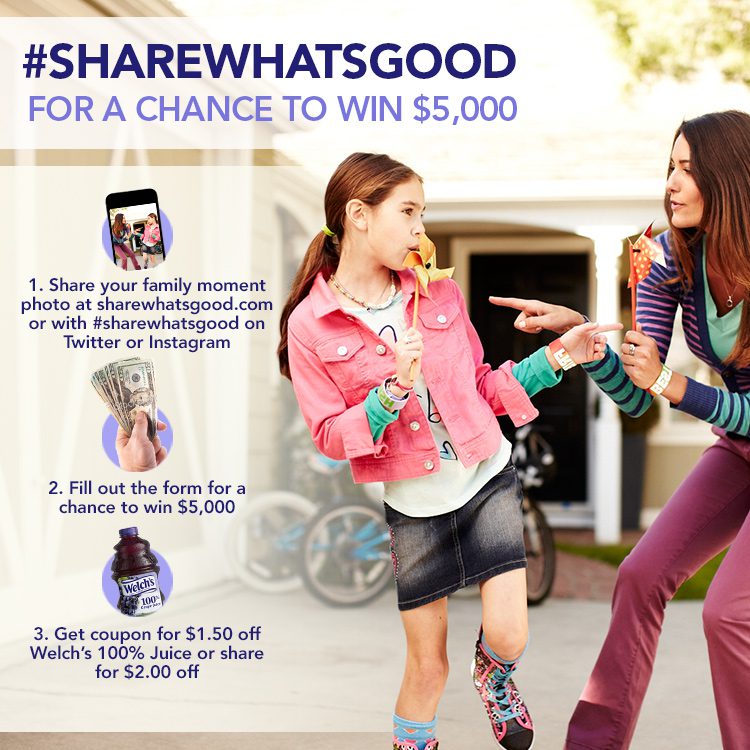 "I participated in a campaign on behalf of Mom Central Consulting for Welch's. I received a promotional item as a thank you for participating."
Growing up we always had dinner together as a family.  I remember times when I wanted to miss dinner to hang with my friends but my mother didn't really allow it.  She cooked a family dinner every night and we were to be there.  I look back now and I'm so grateful because it was a good time for us to sit down as a family and talk about our day.  My father worked a lot so it was also a great time to spend with him.
Now that I'm a mom, I appreciate that even more and most nights we do sit down as a family to have dinner.  We don't have a TV in our kitchen so we talk about our day, which is how it should be.   We've had some good times around the kitchen table and I can only imagine that they will be better as our girls get older.  And we'll look forward to them more since they'll be busy with sports and activities.
Welch's believes in the magic of "kitchen table" moments, and has been helping families enjoy them for generations. In the time it takes to drink a glass of juice or share a sandwich, a special moment can happen. That's why Welch's just launched a new movement called "Share what's good™" It's all about sharing those special moments that occur each day with family, friends and loved ones – whether it's at home or on the go. If you need ideas,  Sharewhatsgood.com you can find fun family ideas to delicious recipes. You can share photos of your every-day moments and see how others are doing the same.
As part of this campaign, Welch's has launched the "Share Your Moments" photo contest on Facebook! Now through 10/25/13 you can upload a photo of your favorite family moment for a chance to win $5,000! Plus when you enter you will get a $1.50 coupon for Welch's 100% Grape Juice – or $2.00 if you share the news. Visit Sharewhatsgood.com to enter.
I feel it's important as a family to have times like this together and sitting down to have dinner together every day will give you lots of moment to share and show each other how much you really do care about what they are doing.
Be sure to follow Welch's on Twitter and Welch's on Instagram!