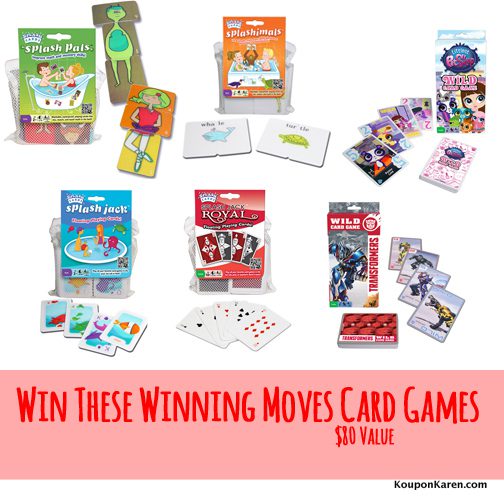 This post is Sponsored by Winning Moves but my opinions are 100% my own!
We are all about playing games here and now that it is summertime, we are in the pool most days.  But sometimes jumping in the pool can get boring (no not really but bear with me).  So adding fun things to do in the pool always makes a happier environment right?
I have some pool 'toys' that are pretty non-traditional and I think you are going to like them – at least I hope so!   Do you like to play card games?  Do your kids like to play card games?  If you answered yes to either one of those questions and you have a pool (big or small doesn't matter) then what would you say if I said they made cards that you can use in the pool and they float??
Yes, they do and I had no idea until recently.
Winning Moves is a website that sells all sorts of fun games for kids and adults.   I've shared games from them before but this is something that is perfect for the summer.
These 4 card games can be played in the pool, in the hot tub or in the tub in your house.  It doesn't matter where but the cards will float and they won't fall apart when they get wet.   And you don't need water to play either, these card games are all lightweight so they can be taken anywhere you need something to occupy the kids – or the adults!
Winning Moves Card Games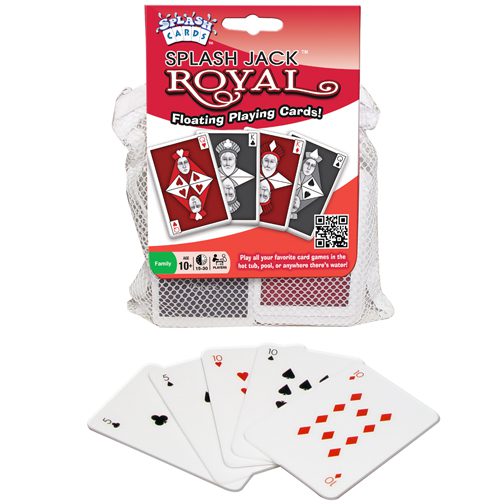 Splash Jack Royal
Revolutionary cards that are waterproof, lightweight, washable and they float! Enjoy poker and other great card games in the hot tub!  You get a deck of 54 waterproof cards playing cards and instructions.   My kids love playing go fish so now they enjoy it in the pool!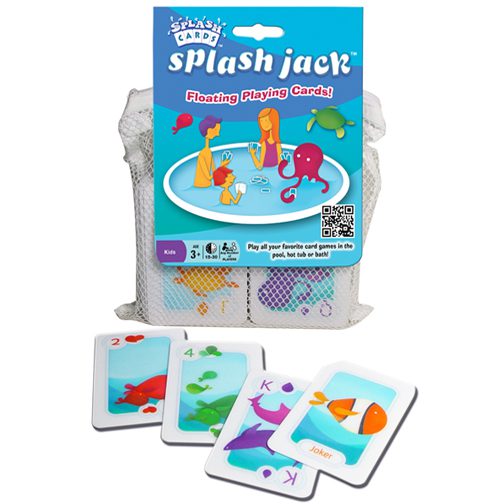 Splash Jack™
Another regular set of cards but with 'kid' pictures on them.  So the kids can play with these and the adults can use the Splash Jack Royal and have their own card games going at the same time!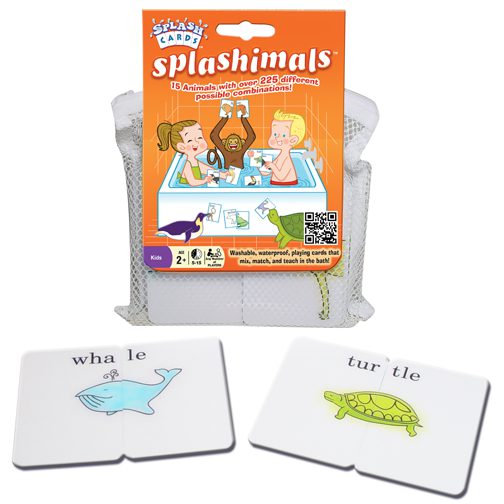 Splashimals™
And for the little ones is Splashimals where they can mix and match their favorite animals and learn how to spell them at the same time.  They can also be creative in coming up with some fun animals.  Like put the 'wha' from whale with the 'tle' from turtle and get something strange called a whaltle!  I'm sure they'd have so much fun laughing at these, I know my kids would.  There are 30 waterproof cards (15 animals in total) and instructions.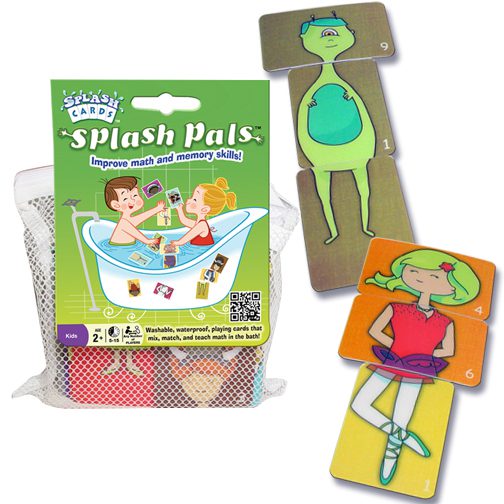 Splash Pals™
Another fun game for kids aged 2 and up.  Splash Pals helps improve math and memory skills while having fun doing so.  Battle it out with an astronaut-Sump Wrestler with legs as delicate as a Ballerina or fight back with a Caveman-Mermaid with the brain of a Robot. Kids of all ages will enjoy making their own splash pals!
What I love about these games is that they all come with a zipper bag that they can be stored in and also hung to dry in.   That also makes them perfect to take to the beach as well.  Each game costs $15.95 and you can buy them online at WinningMoves.com.
Besides these cards that float, Winning Moves has a lot of other card games including a Transformers and Littlest Pet Shop game.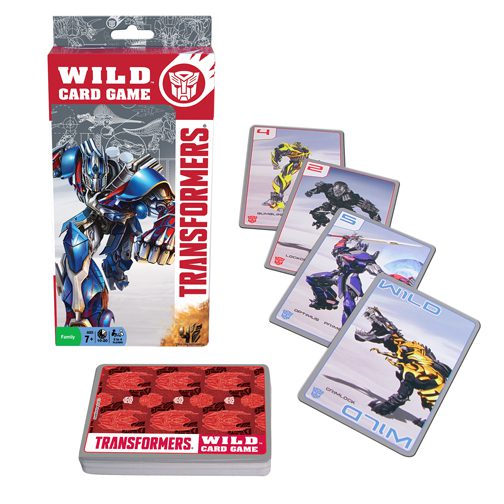 Transformers® Wild™ Card Game
For your Transformers fans there is Transformers Wild Card game which features favorite Transformers like Optimus Prime, Bumblebee and more! Includes rules for 2 fast-paced card games – a standard and a beginners version (great for younger kids)!  Battle against your opponents to create the strongest army of Transformers.  Each player starts with the same hand of cards featuring popular characters and the player with the most powerful set at the end, wins!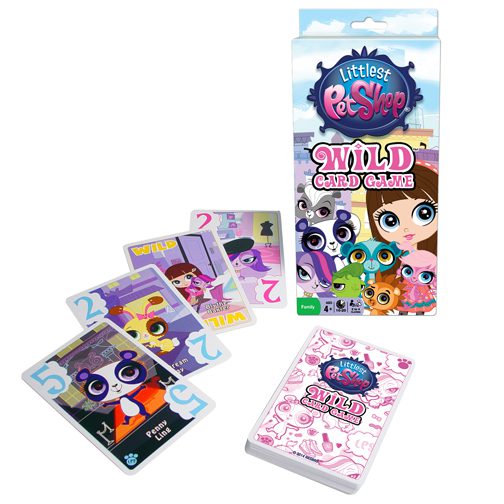 Littlest Pet Shop® Wild™ Card Game
And for those Littlest Pet Shop fans there is the The Littlest Pet Shop Wild Card game featuring the delightful characters from the hit TV show. Includes rules for 3 different card games!   My girls love these little guys and we have a lot of them.  Before our puppy came along, we'd randomly find them all over the house.  Now they keep them in their rooms so he doesn't eat them.
These two card games can also be purchased at WinningMoves.com for $7.95 each.

(1) Koupon Karen reader will win all the card games mentioned above from Winning Moves!

To enter the giveaway, use the Giveaway Tools widget below. Email and feed subscribers will need to click-through to the site to enter the giveaway.
As a reminder, comments left on Facebook or Twitter will not be included. You must follow the instructions on the widget about the proper way to enter. Of course Facebook is in no way associated with this giveaway!
Disclosure: I received a Free product for review. My opinions are 100% mine.