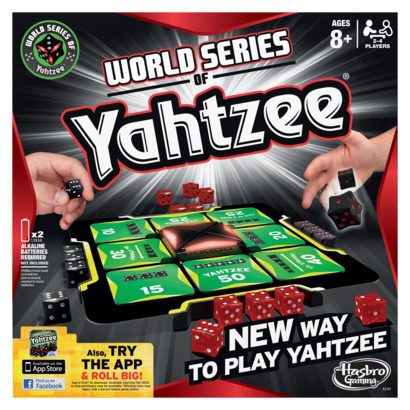 Rock the roll with the new World Series of YAHTZEE game. It's a fast-paced, casino-inspired face-to-face dice showdown where everyone rolls at the same time and tries to match their dice to the YAHTZEE combination cards on the board. Roll fast to try and get the highest score and be the first to lock-in and start the electronic timer. When time's up, grab your card to collect your points. Highest score at the end of the game wins!
Yahtzee is another family favorite.  My kids love it too, which some may think is weird.  My little one loves anything with numbers so it's no surprise she likes this.  I have to play with them because the score keeping part is hard for them but they know the rest!
This World Series of Yahtzee game just brought it to an entirely different level of playing and in my opinion a completely different game and still a lot of fun.  It's very fast moving and exciting.  But still all the luck of the dice.
The fun doesn't end there. Along with the new World Series of YAHTZEE game, check out the World Series of YAHTZEE mobile app from Hasbro and EA, which allows fans to dominate the dice anytime, anywhere. In 2013, no matter how you choose to roll the dice, you can test your skill, strategy, and luck with edge-of-your-seat YAHTZEE experiences.
This is for Ages 8 and up and 2-4 players but again, my almost 6 year old can play and she loves it.  You can find it in stores where games and toys are sold for about $19.99.
Do you have what it takes to win World Series of YAHTZEE?

(1) Koupon Karen reader will win World Series of Yahtzee Board Game.

To enter the giveaway, use the Giveaway Tools widget below. This is a new widget I'm trying and I hope you like it. Please let me know if you have any questions about it or problems with it! Of course Facebook is in no way associated with this giveaway!
As a reminder, comments left on Facebook or Twitter will not be included. You must follow the instructions on the widget about the proper way to enter.
WIDGET
Disclosure: I received a Free product for review. My opinions are 100% mine.