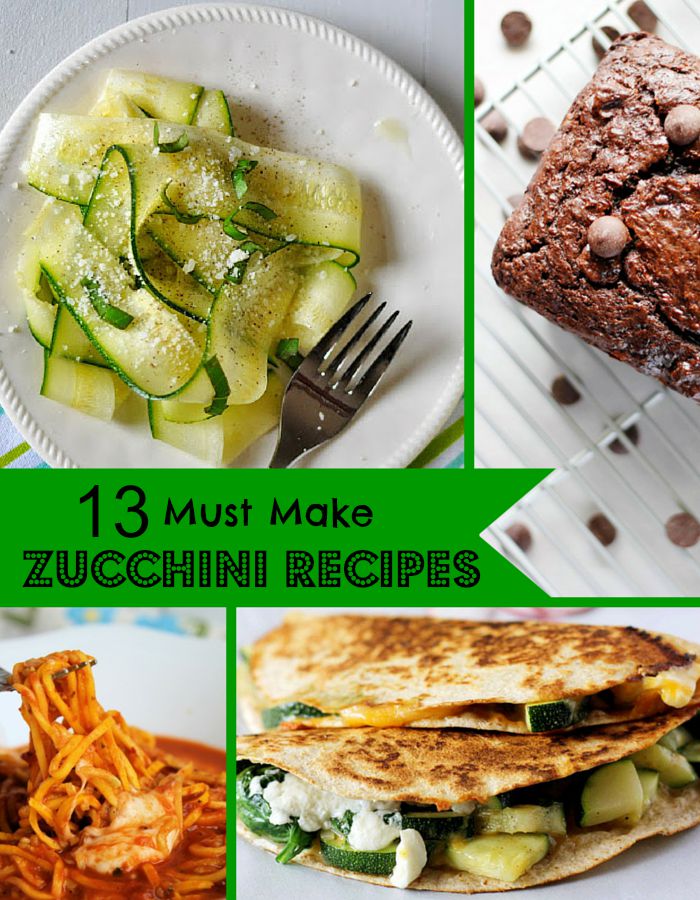 My garden is overflowing with Zucchini right now.  It's not a bad problem, but it's a problem.  My family is getting sick of the same ole' Zucchini Recipes and told me that I needed to find different ways to cook it.. or bake with it!   I'm amazed at the creativity in the kitchen with zucchini that is out there – Ideas I'd never even think of!  Here are 13 Zucchini Recipes to use your stash that your family will love.
13 Zucchini Recipes
Zucchini and Spinach Quesadillas | Sweet Little Kitchen – This looks delicious and super healthy to boot! A quick meal that will leave you satisfied.
Zucchini Carpaccio | Just us Four – If you're looking for a yummy side dish that's also healthy, this is the ticket for you!
Zucchini Pizzaiola | Mom Foodie – Personally, I had not used many yellow zucchini before.  This recipe made me want to add some to the garden roster!
Double Chocolate Zucchini Bread | Sweet Little Kitchen – I've always loved zucchini and chocolate by themselves but together, I love them even more. You will not be disappointed with this recipe!
Zucchini Lasagna | Skinny Taste – This slight twist on lasagna makes it that much healthier without losing the taste and quality!
Raw Zucchini Sushi Rolls | Ask Me Food – Don't be fooled, these do not have any sort of seafood in them, they're just made to look like sushi rolls and they're as cute as a button and tasty at that!
Carrot Zucchini Bars | My Recipe Magic – These are literally melt in your mouth delights! The frosting goes perfect with the taste of the zucchini and carrot.
Grilled Zucchini | The Pioneer Woman – It seems like grilling anything makes it better or gives it a flavor you can't resist. This holds true for zucchini as well!
Zucchini Fritters | The Healthy Foodie – Sadly, it took me a long time before I tried a fritter of any kind. Now that I'm familiar with them, I was excited to see that I could put my zucchini to good use with this recipe!
Glazed Lemon Zucchini Bread | Lil' Luna – Indulge in this sweet treat of a recipe! The icing drizzled over the top brings it home to be one of my favorite desserts!
Easy Cheesy Zucchini Bake | Kayln's Kitchen – Having a hearty yet healthy dinner can be difficult to make especially if you're strapped for time. Try out this recipe the next time you're strapped for ideas!
Zucchini Bites | Stockpiling Moms – If you've got a mini muffin pan, you better get it out so you can make these tasty little things! You can even please the kids with these healthy bites!
Zucchini Parmesan Crisps | Recipe Lion – If you're looking for a good substitute for chips, this recipe is just right for you.  Great on flavor and very healthy!
Which one of these Zucchini recipes will you try first?