I am always looing for Zucchini Recipes.  Soon enough my garden will be overflowing with Zucchini.  It's not a bad problem, but it's a problem.  My family is getting sick of the same ole' Zucchini Recipes.  I needed to find different ways to cook it.. or bake with it!   The creativity on the internet with cooking zucchini is crazy!  Ideas I'd never even think of!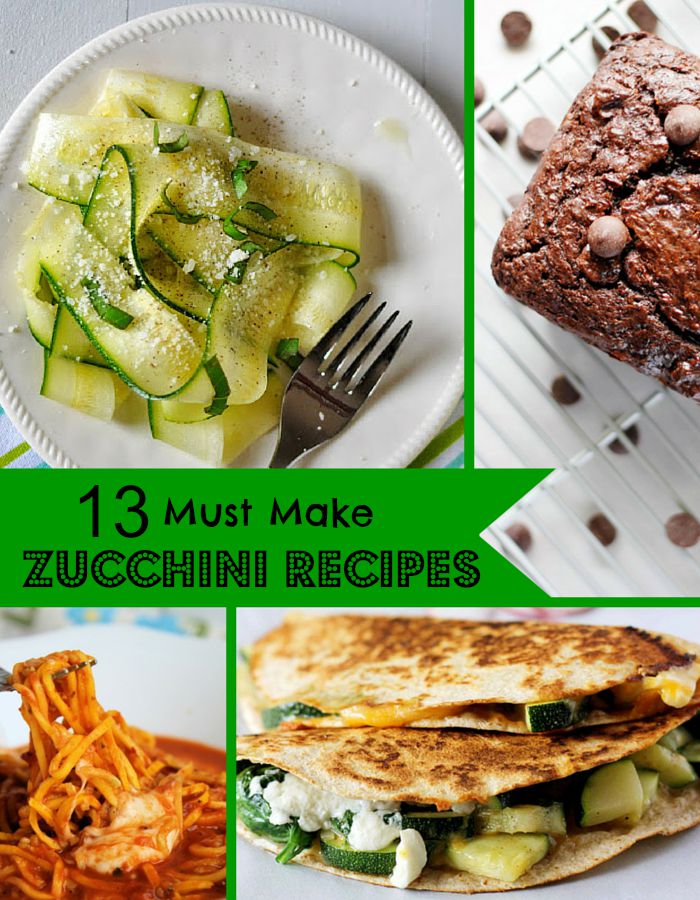 Here are 13 Zucchini Recipes to use your stash that your family will love.
13 Zucchini Recipes
Zucchini and Spinach Quesadillas | Sweet Little Kitchen – This looks delicious and super healthy to boot! A quick meal that will leave you satisfied.
Zucchini Carpaccio | Just us Four – If you're looking for a yummy side dish that's also healthy, this is the ticket for you!
Zucchini Pizzaiola | Mom Foodie – Personally, I had not used many yellow zucchini before.  However, this recipe made me want to add some to the garden roster!
Zucchini Lasagna | Skinny Taste – This slight twist on lasagna makes it healthier without losing the taste and quality!
Raw Zucchini Sushi Rolls | Ask Me Food – Don't be fooled, these do not have any sort of seafood in them.  To clarify, they just look like sushi rolls and they're as cute as a button, not to mention tasty!
Grilled Zucchini | The Pioneer Woman – It seems like grilling anything makes it better or gives it a flavor you can't resist. This holds true for zucchini as well!
Zucchini Fritters | The Healthy Foodie – Sadly, it took me a long time before I tried a fritter of any kind. I was excited to see that I could put my zucchini to good use with this recipe!
Easy Cheesy Zucchini Bake | Kayln's Kitchen – Having a hearty yet healthy dinner can be difficult to make especially if you're strapped for time. So try this easy recipe for a healthy dinner.
Zucchini Bites | Stockpiling Moms – If you've got a mini muffin pan, you have to make these tasty little things! Most importantly, you can even please the kids with these healthy bites!
Zucchini Parmesan Crisps | Recipe Lion – If you're looking for a good substitute for chips, this recipe is just right for you.  As a result, the flavor is amazing and very healthy!
Zucchini Deserts
Double Chocolate Zucchini Bread | Sweet Little Kitchen – I've always loved zucchini and chocolate by themselves but together, I love them even more.
Carrot Zucchini Bars | My Recipe Magic – These are literally melt in your mouth delights! The frosting goes perfect with the taste of the zucchini and carrot.
Glazed Lemon Zucchini Bread | Lil' Luna – Indulge in this sweet treat of a recipe! The icing drizzled over the top brings it home to be one of my favorite desserts!
Which one of these Zucchini recipes will you try first?